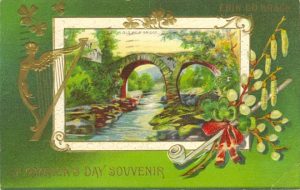 It being St. Patrick's Day, we felt it was our sworn duty as Americans to play some Irish music in honor of the day. As we discovered, there's a fair amount of St. Paddy's Day music tucked away in Archive.org, recorded off of scratchy old 78s. There are also plenty of Irish and Irish-American musicians with covers of what we would call Irish standards. Some highlights:
Favorite song by an Irish tenor: "When Irish Eyes Are Smiling" as sung by William A. Kennedy in 1926.
Favorite cover by a contemporary Irish band: "I'm A Man You Don't Meet Every Day" by Drouthy Neebors (named for a line for a Robert Burns poem — don't ask us what it means.)
Favorite Irish band of any era: is still the Pogues.
We snuck in some other stuff too — the new rocker "Flavorade" by Skribe of Annapolis, MD stood out. Kate Toupin's "Astronaut" reminded us of an indie-pop Debbie Harry. The Winter Passing reminded us that the Emerald Isles aren't always what they're cracked up to be.
And there was more….
March 17, 2021
Top of the Evenin'
Dennis Day with Henri René's Orchestra – St. Patrick's Day Parade
Malcolm Wray – The Girls of Dublin Town
Bing Crosby with John Scott Trotter and his Orchestra – Danny Boy
William A. Kennedy – When Irish Eyes Are Smiling
Jonathan Richman – Just Because I'm Irish
Grandmaster Flash – The Birthday Party
Drouthy Neebors – I'm A Man You Don't Meet Every Day
Toké O'Drift – Bothy Bangz
Kelsey Murray – Danny Boy (instrumental)
Band of Irish Guards – Michelle
Disclosure and Blick Bassy – Ce n'est pas
Skribe – flavorade
Annie and the Bang Bang – Voodoo Ranger
The Winter Passing – Greetings From Tipperary
Poppy Ajudha – Weakness
Parlet – Cookie Jar
Rosé – On The Ground
Kate Toupin – Astronaut
Serpentwithfeet – Fellowship
Kid Creole and the Coconuts – Part of my Design (live)
Maxwell – Ascension (Don't Ever Wonder)
The Pogues – Sally MacLennane
The Pogues – Thousands Are Sailing
The Pogues – Streams of Whiskey
Sgt Lewis – Time
Little Dragon – Hold ON
Bing Crosby with Victor Young – Galway Bay
Trouble Funk – Get Down With Your Get Down
Photo credit: St Patricks Day Postcard 1912 – Artist for original postcard not credited, Public domain, via Wikimedia Commons