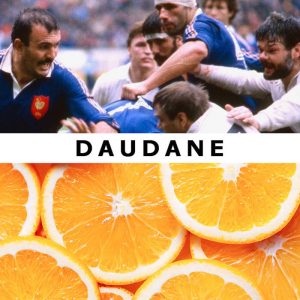 Daudane are an accomplished indie rock band from Bayonne, France — guitar-driven, choral rather than vocal, and with enough little extras to keep the sound interesting. The new album is called Colchique, "crocus" in English, and for the most part, it's a light trip — jammy in a good way, inspired one guesses by late 60s psychedelia filtered through late 90s indie. That said, they can astonish you with a sudden lurch into the heavy side of rock, as on "Caros," which drifts back and forth between overdrive and a more genteel café sound.
Despite the predominance of guitar, they have range — from the driving intensity of "Futur Fossil" to the gentle drift of "Infinite Nap." "Targa" is powerfully drony; "Salt of Summer" is solid, mid-tempo pop. They're good, what can we say?
There are seven players on this record, including two drummers and two suavely choric vocalists (multi-tracked to great effect). The little extras — flute, saxophone — are courtesy of second vocalist Perrine Feriol. The seven songs seem to have been a group effort as no songwriter listed.
Fans of guitar will like this music; showgazey dream poppers as well. Get the latest from Daudane on Bandcamp.