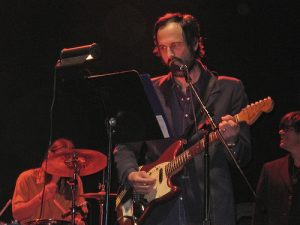 I had taken a news break and hadn't been reading headlines at all, but that didn't stop me from browsing music blogs. It was on such a site, a week after the fact, that I learned of the death of David Berman, the much respected if very low profile indie musician and poet.
Maybe because it fell into a total news vacuum, maybe because he was approaching my age, or because he lived alone, or that he died of depression in a hope-free age — whatever the reason, his death hit me harder than I would have expected. He was me. He was us. The thoughtful bohemian, endlessly creative, largely ignored.
That was yesterday. I woke up this morning humming Joni Mitchell, two songs in particular: "The Boho Dance" and "Song For Sharon." These songs seemed, upon closer examination, to be apropos of the train of my thoughts.
"The Boho Dance" is about a friend who remains bohemian, i.e., creative but poor, while the singer has moved on to massive success with all the money and celebrity that goes with it. She has left the bohemian fringe. He couldn't leave "even if good fortune allowed."
"Song For Sharon" is deeper and darker, and deals directly with the issue of suicide and its aftermath. Mitchell describes the death of her friend as "shaking off futility," noting, with more emotion than is usual for Joni, that "we all live so close to that line, and so far from satisfaction."
Middle age seemed to hit David Berman a bit earlier than most. His struggle with the futility of life was already apparent on his 1998 record, American Water, released with his band Silver Jews when he was barely in his 30s. Although I bought this one mostly because of Stephen Malkmus' involvement, it stayed in my permanent collection, in part because it appealed to my own early sense that there are serious problems with the human condition. But where the wrong-headed dictates of society tended to make me angry, Berman seemed resigned even then.
The buzz about David Berman's new record, this time under the band name Purple Mountains, started for me with "Margaritas At The Mall." I loved it and privately nominated it as this year's Summer Hit. But what I took to be a humorous sendup of pre-apocalyptic zombie-ism is also about the problem of nihilism in a world without God. If anything, "Margaritas" is more of an anti-summer hit, way too heavy for the genre. When Said The Gramophone posted the single, "All My Happiness Is Gone," I didn't listen because it sounded too depressing.
Little did I know. Here, just weeks later, David Berman is gone. His new record, critically acclaimed as it already was even before his death, will reach a lot of ears. His fans new and old will mourn. Meanwhile, Berman, after years of struggle, will finally be free of the sorrows of this world.
But like a tiny gleam through a crack in the sky comes the recognition that out of great sorrow comes great insight. David Berman struggled enormously, but all the same, he never stopped trying to express those insights. We mourn, but we know — we were lucky to have him with us as long as we did.
Photo: Reuben Strayer – https://www.flickr.com/photos/cutey5/114389143/, CC BY-SA 2.0