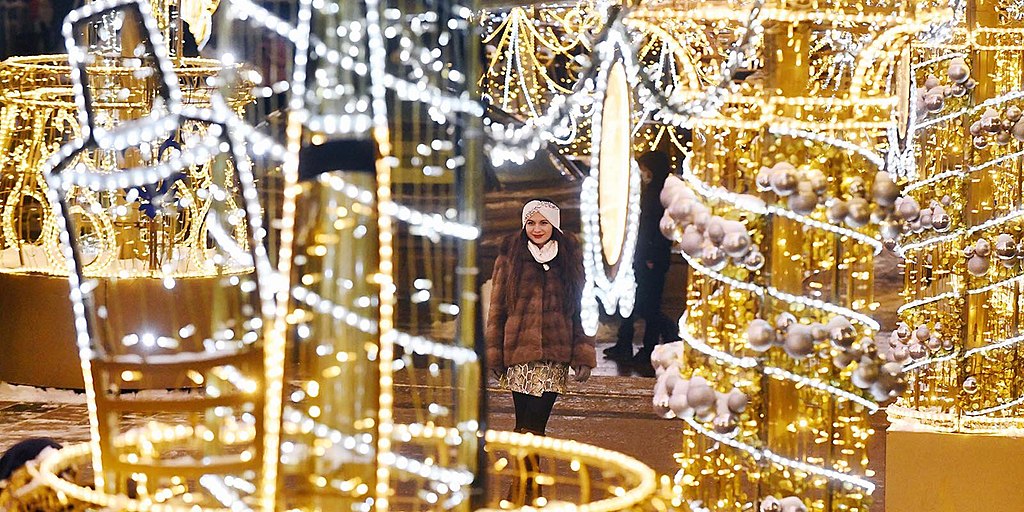 Photo credit: Mos.ru, CC BY 4.0, via Wikimedia Commons
It's that time of the year when people trot out their best of lists, and we're no exception to the rule. As always, we're limited by what's available at a price we can afford, but it's amazing how much is out there when you have pretty much the world at your fingertips. Most of the music we listened to this year came from Bandcamp.
In contrast to 2020 when everyone was sadly recording alone in their bedrooms, 2021 was a bit more upbeat. The first 6 months of the year saw a lot of new releases, including some backlog from 2020. The result — a bumper crop of great new tunes.  But then an odd thing happened in the second half of the year — the music just died. Only a handful of our final selection was released after June 2021. There was seriously nothing out there, or so it seemed. I guess that's what "return to normalcy" meant to the indie music world. We hope this particular musical trend is shortlived.
There were some bright spots in 2021. We enjoyed the ongoing compilation series from La Souterraine, an independent label out of France. There's only one song from those comps here, but it's a good one — Paradis by Panache! Very French….
The UK trend of talkie singles continued, and we chose our favorite including Chris Catalyst's "Make Good Art" (Neil Gaiman does the talking), The Dowling Poole's "Slow Genocide," Dry Cleaning with "Scratchcard Lanyard," and Yard Act's "Fixer Upper." This trend actually started in 2019 but by 2021 it was all over the place.
Some great singles made the cut including "In Your Court" by a Chinese band called All Romantic Days, "Hey Gente" by Spanish group Los Deltonos (love the guitar), "Caroline" by Arlo Parks, a UK singer-songwriter, and Blu and Exile's "American Dream." We also liked Russian band Dead Blonde's Песня про магазин, which roughly translates as "song about a store," as well as "Jump The Turnstile" by Jordana and TV Girl and Jillette Johnson's "I Shouldn't Go Anywhere."
There were whole records that were great — this includes the 2021 releases of Daudane, Men I Trust, Hanford Flyover, Mt. Pleasure (from Montana!), and our top pick, Benjamin Belinska, who is actually from Texas, but lists his city of residence as Newcastle-Upon-Tyne, probably because he lives there.
Other notes: we actually managed to find one band from Vermont that we liked, which would be Robot Rights, who we think are students at UVM. Also, Grrrl Gang really are Indonesian although they don't sound like it.
There's no real difference between list 1 and list 2 — we have two lists because we burned a few sets of CDs to give to friends. Both lists/discs are equally "good" if you like this sort of thing, and we hope you do.
Catch the making of next year's list on Bubble Wrap, weekly on Wednesdays on WVEW FM in Vermont. Meanwhile, here's the best of 2021.
Best of 2021 Part 1
| | | |
| --- | --- | --- |
| Incredible Highs & Lows | Issac Burgess & Emily Parrish | Detroit |
| The American Dream | Blu & Exile | LA |
| Nautical Twilight | I Think Like Midnight | Philadelphia |
| In Your Court (Original Version) | All Romantic Days | Shanghai |
| Paradis | Panache ! | France |
| Shouts of the Coal Mine | Jonas and I | Finland |
| Mr Whetherman | Hanford Flyover | UK |
| Slow Genocide (feat. Tony Wright) | The Dowling Poole | London |
| Make Good Art (feat. Neil Gaiman) | Chris Catalyst | Leeds, UK |
| Hey Gente | Los Deltonos | Camargo, Spain |
| Fuzz Fauna | Mt. Pleasure | Montana |
| Caroline | Arlo Parks | London |
| Rusting Out | Serious Machine | Minneapolis |
| Fixer Upper | Yard Act | Leeds |
| Getaway – Expl? | Robot Rights | Burlington, VT |
| Empire Builder | Typhoon | Portland, OR |
| The Real Thing | Parker Millsap | OK |
| Disappearing | Benjamin Belinska | Newcastle Upon Tyne |
| Glow I & II | Kid Chameleon | Sheffield, UK |
| Unrepresented | The Silver Sands | London, UK |
| Shainarkhan | elzy padme | Moscow |
| First of the Last Glaciers | Godspeed You! Black Emperor | Montreal |
| El Carbúnculo | The Book of Imaginary Beings | Argentina |
Best of 2021 Part 2
| | | |
| --- | --- | --- |
| Scratchcard Lanyard | Dry Cleaning | UK |
| Locust Laced | Sleigh Bells | Brooklyn, NY |
| Honey, Baby | Grrrl Gang | Yogyakarta, Indonesia |
| Salt Of Summer | Daudane | Bayonne, France |
| I Shouldn't Go Anywhere | Jillette Johnson | NYC |
| Песня про магазин | DEAD BLONDE | Saint Petersburg, Russia |
| Veneno | La Dame Blanche | Paris/Cuba |
| Serenade Of Water | Men I Trust | Montreal |
| Little Larue | The Creachies | Baltimore |
| Coming Home | The Haunted Youth | Hasselt, Belgium |
| Jump the Turnstile – Expl! | Jordana and TV Girl | LA |
| Hermitian Philosophy Expl! | Pleasantries | Chicago |
| Listen to your Heart – No | Cheekface | LA |
| Sailor Down | Corvair | Portland, OR |
| Who Named Us | 4EverfreeBrony | Auburn, Washington |
| Bitter Streets | SAULT | London |
| I Hope It Wouldn't Rain Tomorrow | The Bablers | Finland |
| Head Rush | Art d'Ecco | British Columbia |
| Pockets | Four Tet | |
| Orion From The Street | Field Music | |
| Late Snow Walk | Lucas Gimeno | Valencia, Spain |