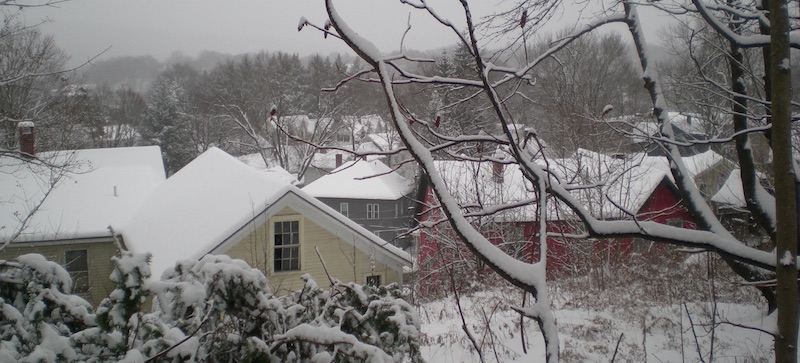 On Bubble Wrap radio this week, we tried to stay away from Christmas without being totally unseasonal in our selections.  The end result was a wintry mix of new stuff just in and songs from past years with the words "winter" or "snow" in their titles.  I know, it's a cheap algorithm but it works, and gives us an opportunity to play some tunes that we would not otherwise ever play.
Such as a cover of "Snow Miser" from the anonymously released CD entitled Christmas, of which we are honor-bound never to indulge the source, or Charlie Angles' cover of "Let It Snow" which is sweet and priceless and terrible in a good way.
Or songs that we really love but play less often such as Fleet Foxes' "White Winter Hymnal" and Bill LePage's "Birdies's Tree."
With every show, a song emerges from the chaos with standout qualities that make us look its author up on the Internet and remember its name.  This week, remembering the name is going to be a bit more challenging — the song was "Gul L'Abi" by Acid Arab, a polyglot French duo composed of two Parisians working with various North African guest musicians. On this track, guest artist AWA's vocals take center stage.   It's interesting to hear her regionally-inflected style of singing combined with hiphop rhythms.   For comparison, hear the opening track in Spike Lee's movie "Inside Man."
Other faves were Edith Wilson and Doc Straine's  "It's Gonna Be A Cold, Cold Winter" from way back in the 1920s and Nino Nardino and Roger Roger's guitar-driven "Mowgli."  I was more susceptable to the Mowgli because I just saw the live action version of Jungle Book this week (and it's not bad).
Not much more to relate.  Here in B'boro, we've had our first snow of any consequence, about 6 inches overnight, making us feel either jolly or grumpy depending.  We're planning our Christmas show for the 21st (the Winter Solstice) and the first of two year end shows, starting on December 28.  Or did we tell you that already?
Here's the playlist:
December 7, 2016
A Wintry Mix
The Robot Ate Me – Wonderland
BOSQ – Never Feel Cold
Nino Nardini & Roger Roger – Mowgli
Pixies – Winterlong (Neil Young cover)
The Amazing Pilots – The Price of Winter
Edith Wilson and Doc Straine – It's Gonna Be A Cold, Cold Winter
Cherry Glazerr – Told You I'd Be With The Guys
Prince – White Mansion
Odd Couple – Visions (feat. Joey Purp)
Charlie Angle – Let It Snow
Acid Arab – Gul l'abi (featuring AWA)
Gerry Mulligan/Paul Desmond – Wintersong (take 1)
Steph Barrak – So Familiar
? – Snow Miser
Vince Guaraldi – Christmastime is Here
Bill LePage – Birdie's Tree
Blind Willie McTell – Cold Winter Day
Childish Gambino – Have Some Love
? – Let It Snow
Seeing Hands – It's True
Sebadoh – Cold As Ice (Foreigner cover)
Gems Music – Half of Half
Homer & Jethro – Baby It's Cold Outside
Bob Rivers – Shoppin' Around For A Xmas Tree
Fleet Foxes – White Winter Hymnal
of Montreal – Wintered Debts
Mrs. Jack Keating – How Cold These Wintry Winds Do Blow…
Note:  post corrected to fix absolute mangling of Acid Arab attribution.