It's August here in the small Vermont town where I live, and even here, in the so-called north country, we're experiencing a bona fide heat wave.  To celebrate, we watched Seven Year Itch while eating take-out sushi and drinking basil vodka.  Yeah, it's that kind of summer night.  This week's Bubble Wrap show was not about the heat  (they have AC), but about fact that we had an extra hour to fill, which led us to play some long cuts.  Chris gave us 15 minutes of a Trouble Funk show.  I tacked on some old Astralwerks dance music (Chemical Brothers, Cassius).  And then we got to the surprise star track of our three hour show:  Robert Ashley's "The Bar" (from Perfect Lives, a television opera), side A, released circa 1982.
You too can listen to this track.  It's available through Ghost Capital, a blog of old, obscure audio from around the world.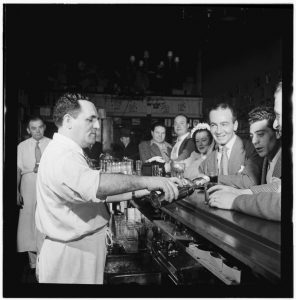 Robert Ashley's "The Bar" features a bouncy, "boogie woogie" piano balanced against a human voice (Ashley's) performing a long poetic narrative about America, or some guy, or something.  It's hard to explain.  Like listening to John Cage's Norton Lectures, there's a certain randomness to this that makes it almost stream of consciousness and, hence, really hard to follow.  But something about that chippy piano and the strange tale being told renders this mesmerizing.  I also like that there are strange intonal background vocals that come in later in the 15 minute work that take the whole thing up a notch into something almost spiritual, despite the fact that it seems to be a story told in a bar.  Our one phone call of the evening was about this piece.
Otherwise, there was funk, R&B, and a bunch of 2016 indie tracks (thank you FluxBlog, 3Hive, and Said The Gramophone).  CG and I coalesced on R&B/hip hop artist Anderson .Paak (I played The Bird).  Other indie favorites included:  Western Massachusetts band Speedy Ortiz with  "Emma O," NYC's 79.5 and their lush, jazzy "Ooo", and Agnes Opel's "Familiar."
Fixture Records sent us a CD from Brave Radar, so we played some of that — Brave Radar are a Montreal band with a delicate sound, reminiscent of Adventures in Stereo and Stereolab, and giving off a pleasantly French vibe.
Here's the complete playlist for the show:
August 10, 2016
If I were from the Big Town, I would be calm and debonair: Summer Sounds
Trouble Funk – Live, Part C
The Chemical Brothers – Let Forever Be
Cassius – Feeling For You
Robert Ashley – The Bar (side A)
Lynda Barry – I Remember Mike
Souleance – Ratatouille
Rhythm Staircase – Ritual
Speedy Ortiz – Emma O
Body Language – Just Let It
79.5 – OooBeck – Wow
Sgt Lewis – All Night (featuring Dornik)
Rufus Du Sol – Be With You
Rare Essence – Hold Me Down (featuring Miss Kim)
Anderson .Paak – The Bird
Sleigh Bells – Rule Number One
The Avalanches – Harmony
Sampa The Great – 2 4
Manatee Commune – Simple Lessons
Sam Gellaitry – Dreamscapes
Prince – X's Face
Prince – Hot Wit U
Brave Radar – Earth Control
Agnes Opel – Familiar
Ben Babbitt – Xanadu
Beverly – Crooked Cop
Jay Arner – World of Suffering
Tenement – Witches in a Ritual
Bootsy's Rubber Band – Pinocchio Theory
Chico Freeman – I Remember You
To be part of industry is to be real . . .
If you're a part of industry, both in your
Industriousness and in the nature of
your work,
There is a chance that everybody will like
your work,
Because it is a part of industry.
And things that are not a part of industry
Are not possible to like.
– Robert Ashley, Perfect Lives