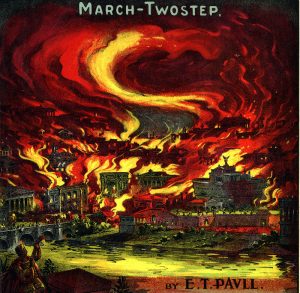 It was the best of times, it was the worst of times, it was pop music in 2011.  In the larger world, there were eruptions of populist sentiment accompanied by chants and machine gun fire, depending on what part of the world you experienced "spring" in that year.  Arab Spring rolled through the Middle East and Occupy Wall Street took up residence in Zuccotti Park in NYC that Fall.  This year, much of the same sentiment has returned with the Bernie Sanders campaign movement. What this has to do with music, I haven't a clue, but something, maybe.
This show did not feature a lot of big tunes.  It was more an amalgamation of disparate tunes by various artists doing individual things on their own.  Electro pop is still big, and there are a few straight up rock tunes such as Dum Dum Girls "You Get Me High" and Barbara Panther's "Your Empire Is Burning," which gave us this week's post title…
Top tunes for me that year were Cassettes Won't Listen's "Perfect Day," which is a perfect pop song as I'm sure others have said before.  Favorite throwback track: Adventure's "Feels Like Heaven" which seems almost assuredly to be a Psychedelic Furs cover only it's not.  Best political song by a 90s artist: "Senator" by Stephen Malkmus and the Jicks.  We had to edit "blow" but it still works — people get the idea.
Read on for the full playlist.  As always, not all songs are from the year indicated.
June 1, 2016
Your Empire Is Burning: Songs of 2011
Bootsy Collins with Cornell West – Freedom
Adventure – Feels Like Heaven
Ancient Astronauts – Worldwide
AU – Solid Gold
Barbara Panther – Your Empire Is Burning
Baths – Maximalist
Bill LePage – Music For Four Pianos
Yuck – Get Away
Future of the Left – Polymers Are Forever
Wild Flag – Something Came Over Me
Dum Dum Girls – He Gets Me High
Cassettes Won't Listen – Perfect Day
Mates of State – Palomino
Foster The People – Pumped Up Kicks*
TuneYards – You Yes You
Sebastian – Love In Motion with Meyer Hawthorne
Azari and Ill – Manic
Thundercat – Walkin'
Malcolm Hunter & Makeshift Dream Orchestra – Hangups
Charlie XCX – Nuclear Seasons
Stephen Malkmus – Senator
Danielson – People's Partay**
Inc. – Swear
Heather Perkins – The Great Curve
Familiar Faces – Pocket Ride***
Danniker & Cloud – Hey Banker, Hey Banker
* I heard Pumped Up Kicks everywhere that summer and for at least a year after.  Could it be its eerie resemblance to the Drew Carey Show theme song?
** In honor of Heifer weekend here in town, when the cows stroll down Main Street and visitors partake of public interest literature and displays about agriculture.
*** Obligatory go go track!