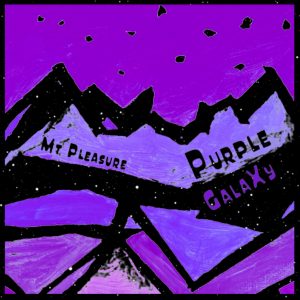 Mt. Pleasure manage to pack a lot into 23 minutes — their new and possibly only album Purple Galaxy contains 10 tracks of varied genres, all under 3 minutes each. But despite its brevity, the record feels complete, with everything from jangly indie pop to contemplative folk rock to interstitial drones.
As you might expect from the album name, Purple Galaxy evokes a certain outer-spaciness, reinforced by songs like "Galaxy Hum" and "Radio Silence." And while the drones are genuinely droney, there are three fully realized pop songs on here that include the two just mentioned and the album's piece de resistance "Fuzz Fauna."
As self-produced, home-recorded EPs go, this one's a winner. We hope its author, Noah G. (who hales from Montana and modestly describes himself as "guy w/guitar") continues to write, record, and release more music of this ilk. He's better than he thinks he is.
He's also a decent guy, judging from his decision to donate all proceeds through mid March to the Coalition for the Homeless.
If you're looking for something enjoyably different, Mt. Pleasure could be your bag. Think Pavement crossed with Asteroid #4, and find it on Bandcamp.