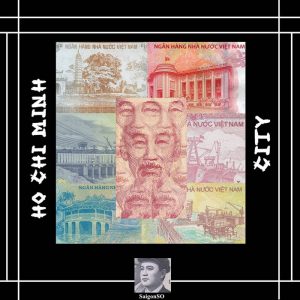 When I first heard Yingvarz' new album Ho Chi Minh City, I had never heard of Signalwave, the genre that presently defines Yingvarz' musical efforts. Yingvarz, formerly SaigonSO, is from Vietnam where he composes Signalwave in his spare time. In that, he is a big fish in a small pond, being possibly the only Signalwave practitioner in his country.
Signalwave, an offshot of Vaporwave, is the repurposing of found sound from radio, television, field recordings, and other sources and mixing them together into a musical collage. To some degree, it's intended to be wallpaper, a musical evocation of the background rattle and hum of modern life.
Despite its 25 tracks, there is no choppiness to Ho Chi Minh City but rather a sense of disjointed continuity as each composition flows into the next. Some tracks are just short interstitial snippets, while others are more fully developed. The effect is low key but panoramic, an unseen world that floats before your minds eye.
Despite the exotic aura of these newish 'waves, the idea of mixing samples into original compositions is hardly new. But Signalwave sounds different, no doubt — more organic, less composed, more cinematic, and less symphonic, than traditional "DJ music" of the past.
As for the 'broken transmission' effect, Yingvarz uses it here and there, but not jarringly so. Nevertheless, when we played the title track off Ho Chi Minh City on the radio recently, we got calls to tell us "the cd is skipping."
Yingvarz says he enjoys both Western and Vietnamese music, and wants to bring "a little of my country to others" through his work. In that and more, he has succeeded. If you're looking for a unique musical travelogue, Ho Chi Minh City will take you there.
But, Yingvarz tell us, "Even if you don't want the transmission, the tower will still send the signalwave." True, so true. So turn on your receivers — this is a wave worth catching.
Get Ho Chi Minh City by Yingvarz on Bandcamp.