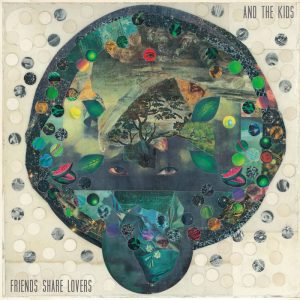 I first saw And The Kids at a local all ages show here in Brattleboro, and they struck me then as a band to watch.  Sure, they were a little rough around the edges, but they had an originality and passion that set them apart.  Now with their second full length CD Friends Share Lovers, all the elements that impressed me to begin with have been sharpened and enhanced. They're still plenty quirky but their pop core is more evident and, in a word, hummable.  Meanwhile, their lyrics are that perfect combination of pointed and obtuse.  Not since Liz Phair have I heard white girls so frank and honest about their own reality whilst wrapping it in such transcendant pop stylings.
My British friend in Boston used to call records like this "growers," i.e., they have to grow on you.  This means playing the entire album over and over in the original song sequence until you "get it."  Friends Share Lovers started to get to me big time after the fourth listen.  By the ninth listen, I was in love with it and humming various songs non-stop.  The first one to cross the ear-brain barrier was "Cheer For Babies."  This one is strangely hooky but the lyrics throw you off.  Why do you always "cheer for babies"?  What is it that all our parents do?  (I have some ideas but there's no way to know).
I fell for "I Dropped Out," inspired by lead singer and songwriter Hannah Mohan's experience as a high school "drop out."  Can I just say?  these guys write and play like people who were not institutionally schooled.  It's this song that gives you an idea that we have rebels on our hands.
"Without Purpose" and "Strange To Be" are both vaguely political, alluding to the immigration issues the band has been having with their Canadian bandmate.  I love both songs equally, but give the edge to Strange To Be, with the sudden and soaring outro, to wit: "this place ain't good but at least it could be."  Those words seem extra poignant this year as we all try to decide what a better world looks like and if we have any chance of making one.
And The Kids address issues of their age and of their age group (early 20s), so there are songs about room mates, friends and lovers, current events, and the meaning of life.  They remind us that their age group grew up with extinction, not as a future possibility but a current reality, just to mention one depressing issue that we all have to think about now.  They remind us that not everyone wants to sacrifice their freedom for safety.
There is something balls out and fearless about And The Kids that is extraordinarily refreshing, given how much drivelly nonsense is being produced right now.  It's also really nice to hear some guitars with some muscle to them.  I don't want to be lulled.  I don't want to be soothed.  And The Kids have no intention of doing either one.  More power to them.  They've got the right dynamic for the new frontier, and we could certainly use their spirit.
Label: Signature Sounds, Northampton, MA