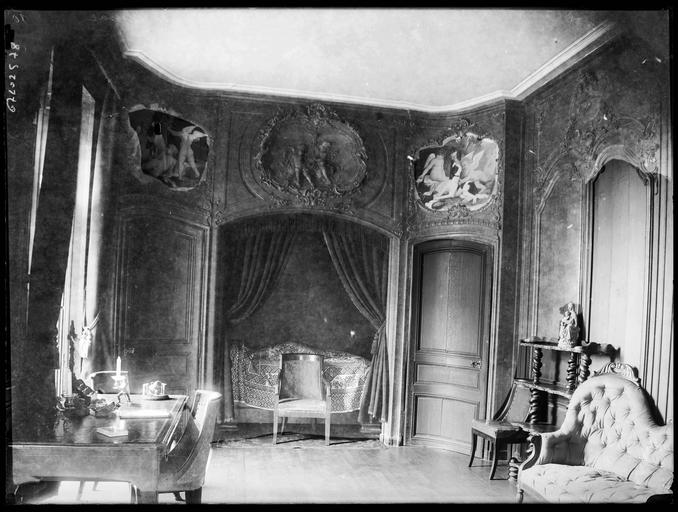 Gustave William Lemaire, Public domain, via Wikimedia Commons
Being less than a week before Halloween, it was the best and only time this year to trot out the scary music. This year, we've been celebrating since Michaelmas, which is early indeed for this sort of thing. But it's been cool and grey here much of the time, doing it's best to give us Dark Shadows atmospherics all season long. We played our maximum allotment of Big Stir bands, and a bunch of independents as well. And then there were the tunes of the moment, not the least bit related to the holiday — Geese with 4D Country (fucking amazing, I daresay), DAII Star, Subsonic Eye, and Dabda, more on some of them later.
But first let's just say that Big Stir did it up right with their Stir the Cauldron Halloween compilation, and we enjoyed such spooky numbers as "Under Halloween Leaves" by Blake Jones and The Incurables' "Halloween Bride" which enjoyably evoked the Hudu Gurus… Many great songs including a faithful and satisfying version of Bad Company's "Spooky."
The Playlist
Space Ghost – What Day Is It?
Rush – The Spirit of Radio
Vitskar Suden – Thriller
Blake Jones – Under Halloween Leaves
Steve Stoeckel – Whistling Past Graveyards
Halloween ad
Jazzy Jeff and Fresh Prince – Nightmare on My Street
Bob Malone – So What If It's Halloween
Subsonic Eye – Performative
Legendary Pink Dots – Wrath of Dog
The Incurables – Halloween Bride
Bob Rivers – Trick or Treatin' Blues
Boris Karloff – Civil Defense
WDW – Haunted Mansion
Geese – 4D Country
DAII STAR – Speed Jesus
Dabda – Flower Tail
American Analog Set – Konika
Eric in the kitchen – Get Me (Dino Jr cover)
The Feelies – There She Goes Again
George Clinton – Rita Bewitched
Whodini – Haunted House of Rock (Vocoder version)
Louis Prima and Keely Smith – That Old Black Magic
Graham Parker and the Goldtops – The Music of the Devil
Dolph Chaney – This Halloween (2016)
Eric in the kitchen – Post Apocolyptic Christmas (Gruff Rhys cover)
Bacao Rhythm and Steel Band – Stranger Things theme