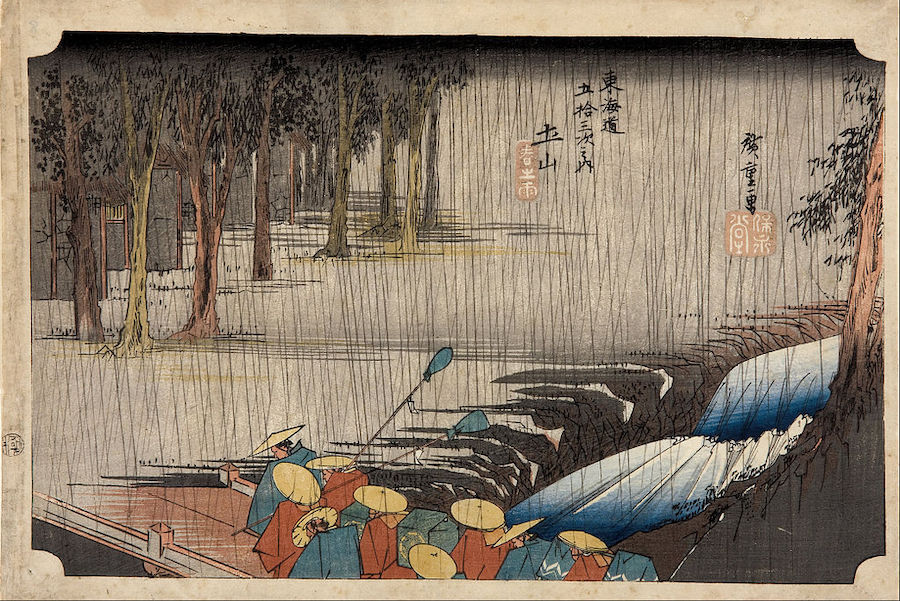 Who knew there were so many songs about rain? It's Spring, so yes, it rains. What choice have we but to acknowledge it? New music helps. We've been especially liking Benjamin Belinska, The Silver Sands, The Bablers, and Daudane, among others.
But first, it's time to revive Issac Burgess and Emily Parrish, whose super fun dance pop ep Year In Review came out back in January. Here is a group that combines strong songwriting with a feather light attack, leaving you with no choice but to like it since what's not to like? Our favorite so far is "Incredible Highs and Lows," a hook-laden tune with a smidge of Tom Tom Club and a touch of something vaguely European. They're from Detroit.
We've been playing the indie folk tunes of Benjamin Belinsaka for the last couple weeks. Although he claims to be from Newcastle-Upon-Tyne, he appears to have originated in Texas, and you can hear it in his vocal. This week's pick: "Dancing On The South Side" from his stellar Lost Illusions release.
The Silver Sands gave us their take on the problem of being "Unrepresented." The Bablers, which label Big Stir is touting as a Finland supergroup, evoke the Beatles big time without quite getting to parody. We played the title track from their new LP Psychadilly Circus. Daudane, from Bayonne, France, do what I think of as indie rock a la Francaise. The entire Colchique record is good but we especially liked "Infinite Nap."
Was there more? You betcha…
May 5, 2021
Rain Cloud Rain
Space Ghost – What Day Is It?
Doc and Merle Watson – Stormy Weather
Groovegrass – Let It Rain
Clap! Clap! – Please Mother Rain Wash Our Souls From Human Evil
Vaporwave & Philosophy – What Do You Think, Sirs
Hiatus Kaiyote – Get Sun feat. Arthur Verocai
Isaac Burgess & Emily Parrish – Incredible Highs and Lows
XTC – Ballet for a Rainy Day
Madonna – Rain (radio remix)
Pigeondust – Rain
Benjamin Belinska – Dancing on the South Side
The Eisenhowers – Alchemy, Adam and Eve
The Silver Sands – Unrepresented
Rocko English – Milkbone
Purple Schutz – Rain
Sarah Vaughan – Come Rain or Come Shine
The Bablers – Psychadilly Circus
Miss Grit – Grow Up To
Flock of Dimes – Price of Blue
Shuggie Otis – Rainy Day
John Coltrane – After the Rain
Palabrua – Twilight Trance (Pt. II Changing Tides)
Daudane – Infinite Nap
George Harrison – Beware of Darkness
Natalie Merchant – Little April Showers (with Michael Stipe and The Roches)
Stepart – Rainy Day Blues
Photo credit: Hiroshige, Public domain, via Wikimedia Commons