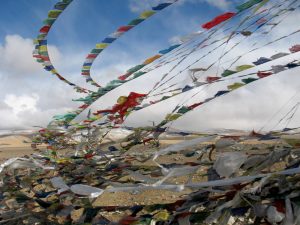 Everything is under wraps; we're moving nowhere in particular at warp speed.  We may be riding an express train of confusion but liberation day is at hand. Or so it would seem from where we sit, watching the world go by and broadcasting Bubblewrap to you each week on Wednesdays from 7-9 pm.  This week's show featured more from La Souterraine, plenty of classic funk, and a hefty helping of new music by artists at various levels of obscurity from Hanford Flyover to Haru Nemuri, touching both ends of that spectrum.
Hanford Flyover continue to impress. We played another from their most recent release, this time the moody, downtempo rocker "Cloverfield."  We also played a the first and last tracks from Philadelphia's eponymous I Think Like Midnight album, as well as our new political rock faves The Dowling Poole.  Their Trump Chronicles EP is excellent — we went with "Empires Buildings and Acquisitions" as most representative.
We liked all the La Souterraine tracks, with a special nod to Tricard for "Comme des gueux" ("like the beggars"), a North African-influenced art-pop song with classically French vocal manifesto. À Tâtons' Bateau is nice too — decidedly poppy hiphop couched in winning beats.
And finally, we premiered "The Descender", an ambitious track from the new Scottish band Broken Notions, who  combine indie sensibilities with what we used to call (in a good way) "slick production" for a very heady mix. Expect more from them this year.
Of course there was more.  There's always more….
March 10, 2021
Haiku for Everything
Space Ghost – What Day Is It?
Pigeondust – Rain
Rufus and Chaka Khan – Do You Love What You Feel?
A Tatons – Bateau
Tricards – Commes des gueux
Sinaive – Tabula Rasa
En Vogue – You Don't Have To Worry (Radio Remix Edit)
Grandmaster Flash – U Know What Time It Is
Haerts – Shivering
Hanford Flyover – Cloverfield
The Dowling Poole – Empires Buildings & Acquisitions
Junior – Let Me Know
Junior – Not Tonight
I Think Like Midnight – Nautical Twilight
I Think Like Midnight – The South Island
Woolfy – Odyssey
Prince and the Revolution – Life Can Be So Nice
Broken Notions – The Descender
Haru Nemuri – bang
The Sorcerors – Opening Titles
Jitwam – Back To My Place
Sycco – My Ways
Anika Pyle – Haiku For Everything You Loved and Miss
SAULT – Bow feat. Michael Kiwanuka
Photo credit: abogada samoana, CC BY-SA 2.0 <https://creativecommons.org/licenses/by-sa/2.0>, via Wikimedia Commons