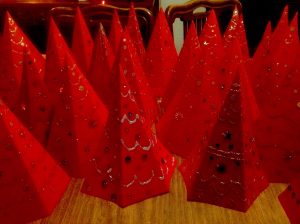 Riding the times like ocean waves, hoping not to get swamped, taking the good with the bad — these are all themes of life here on Bubble Wrap. Helping us do that was our artist of the week, Mori, whose new ep seekseek is chock full with playful keybs and wildly processed vocals including our current faves "frog" and "Nightmare!."
Libertina, from Colon, Argentina, was another winner, funking it up punkrock style with her ep Miss Juguetes. https://libertina.bandcamp.com Our favorite frustrated Covid song was "Rona Pollona" by Ghost of Vroom from NYC. There was some awesome punky krautrock from Greece with Seven to Rhine and some old Fugazi to remind us of our history of revolutionary spirit. Music, it tells it like it is sometimes. Oh yeah, and Bruce's "Born In The USA" because why not?
And more, so much more.
November 11, 2020
Party Rapture
Space Ghost – What Day Is It?
President's Own US Marine Band – The Invisible Eagle
Animaniacs – The Presidents
The Pogues – The Band Played Waltzing Matilda
Hal Kemp and his Orchestra with Deane Janis – My Forgotten Man
Detholz – Celebration
George Clinton and the P-Funk Allstars – Let's Get Satisfied / Dope Dog
EU – Let the Party Begin
Maestro Collage – Paint A Picture
⣎⡇ꉺლ༽இ•̛)ྀ◞ ༎ຶ ༽ৣৢ؞ৢ؞ؖ ꉺლ – ೧ູ࿃ूੂ༽oooooo(ଳծູ l̡̡̡ ̡͌l̡*̡̡ ̴̡ı̴̴̡ ̡̡͡| ̲̲͡ π̲̲͡͡ ɵੂ≢)_̴ı
Mori – frog
Blondie – Rapture (Teddy Riley remix)
Salt n Pepa – I Like To Party
Katrina and the Waves – Walking On Sunshine
Bruce Springsteen – Born in the USA
Sex Pistols – God Save the Queen (dance mix)
Slow Pulp – Idaho
fine. – Should I
Tomberlin – Wasted
Grace Jones – I'm Not Perfect (But I'm Perfect For You)
911 – Time To Party
Libertina – Normal
Seven to Rhine – Seven to Rhine
Mori – ナイトメア! (Nightmare!)
Janelle Monae – Dance Apocalyptic
Major Lazar – Get Free
Mogwai – George Square Thatcher Death Party (Justin K Broadrick remix)