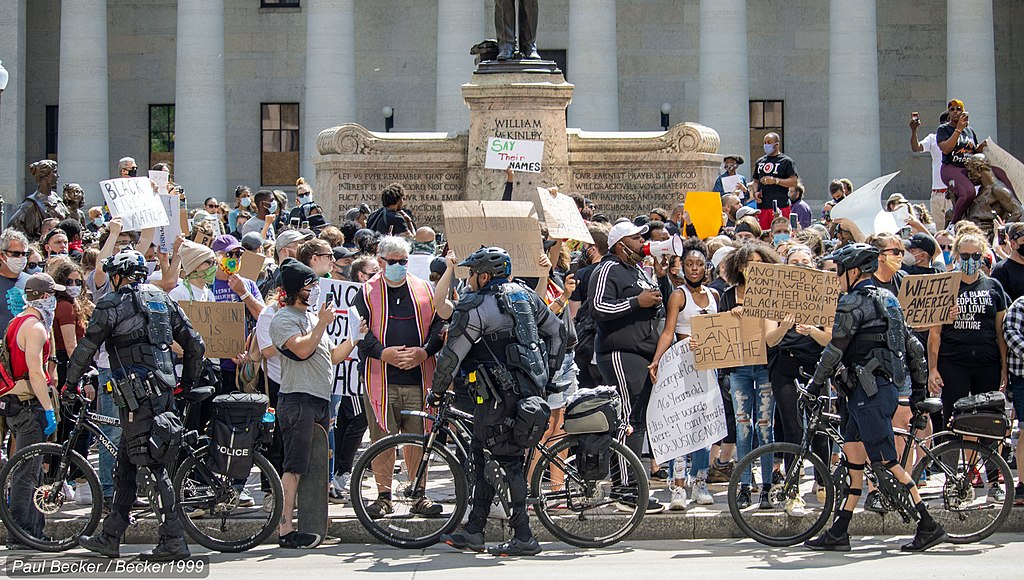 George Floyd Protest, Columbus, OH, May 30. Becker1999 from Grove City, OH / CC BY https://creativecommons.org/licenses/by/2.0
It's been two days since George Floyd was murdered by police in Minneapolis. The streets are filled with protestors. Covid-19 is still lurking about. It's been hot — noticeably warm for this early in the season. It's against this backdrop that we attempt to "cheer up" our compatriots in Radioland. A lot of older songs this time, which have the reassuring quality of being already lived through.
Highlights: We found a cache of old Rhythm Scholar remixes, several of which we shared with y'all tonight. My fave was the happy version of "Can I Kick It?" by Tribe Called Quest. Also checked out a new label comp from Rare Drugs records in Toronto. This new disc, entitled Interiors, features 14 artists, all interesting in their way. Our top picks were "Left Me" by Happy Jade and Sissy Boy's "Hanzanama." Check out Rare Drugs and their bands on Bandcamp.
Otherwise, a few oddities, lots of summer songs, some protest songs from Janelle Monae and Last Poets, and a smattering of new music.
Notice the full list below.
May 25, 2020
Flashback
Space Ghost – What Day Is It?
Monty Python – Violin sketch
Michael Kamen – Central Services / The Office (Brazil)
Percussive Vaudeville – Hot Time In The Old Town Tonight
A Tribe Called Quest – Can I Kick It?
Coolio vs Lakeside – Fantastic Voyage (Rhythm Scholar remix)
Sun Ra – We Travel The Spaceways
Bootsy – Landshark (Just When You Thought It Was Safe)
Salt n Pepa – My Mic Sounds Nice
Slave – Sizzlin' Hot
J E Sunde – Sunset Strip
Matthew O'Neill – Bridge Builder
The Playwrights – Welcome To The Middle Ages
Super Bravo – Anoucka
Cameo – Single Life
Zapp – Computer Love
Hal 9000 – Daisy
Superhumanoids – So Strange
DJ Jazzy Jeff and the Fresh Prince – Summertime (Rhythm Scholar remix)
Sissy Boy – Hanzanama
Interiors – Wynton (Outro)
Janelle Monae – Hell You Talmbout
Last Poets – Get Moving
Origami Horses – The King of Happenstance
Tame Impala – One More Year
Madonna – Holiday
Happy Jade – Left Me
Sunny War – Fragile