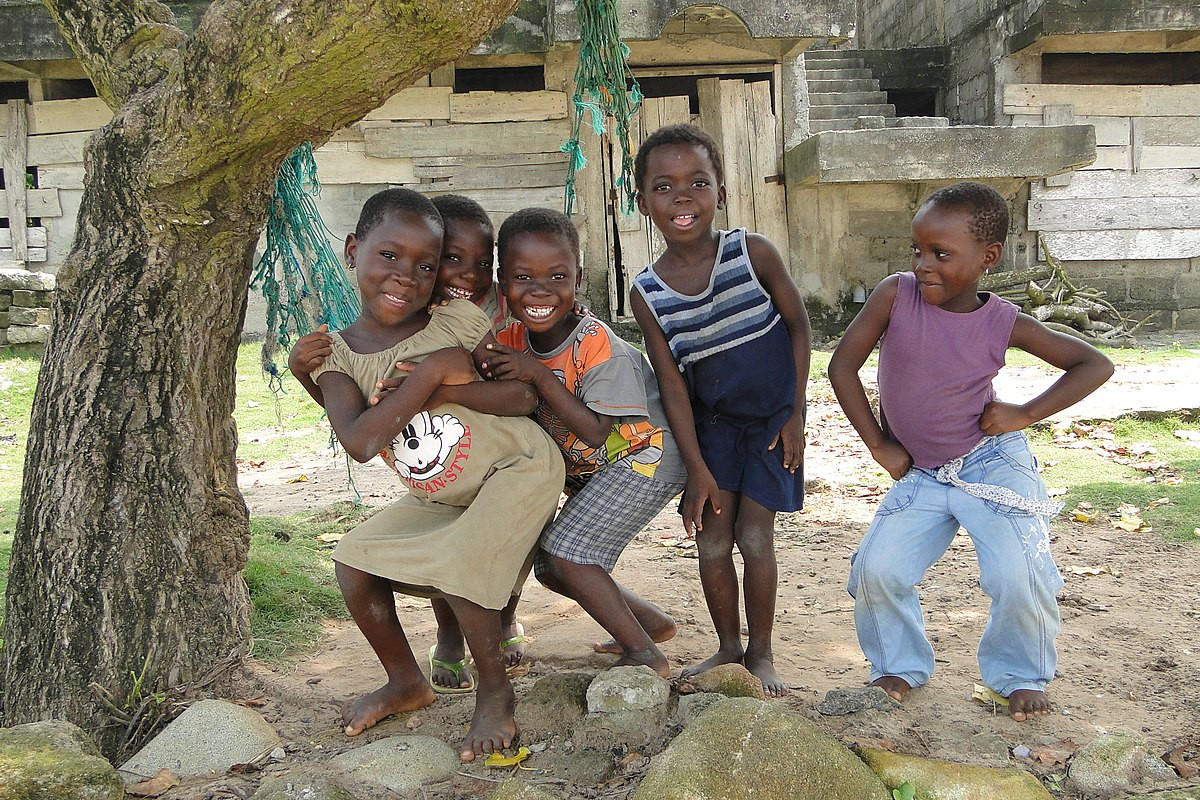 Photo by Adam Jones from Kelowna, BC, Canada – Young Girls Strike a Pose – Busua – Ghana, CC BY-SA 2.0, https://commons.wikimedia.org/w/index.php?curid=64169735
With 2017 safely behind us, Bubble Wrap Radio moved on with the first crop of 2018 releases (and a bunch of late 2017 as well).  It is way too early to have any idea what 2018 is going to be about, and a selection of tunes is always selected by a biased someone, so I'll go ahead and say that darkness and dread will continue, but leavened with a bit of gallows humor and the occasional burst of inspirational optimism.
There were two from Sweden, the new land of avant garde pop or so it seems.  Fever Ray released her first record in 9 years late last year. We played "Mustn't Hurry" out of nostalgia and because we enjoy her tribal keening.  Also played a track from the new Holy record, but not the title track ("All These Worlds Are Yours").  We played something called "Premonition/O/it shines through" which might be a medley, or not.  Holy does not create polished, studio-crafted stuff at all, which is one of the things I like about it.  It does what it wants.
Seattle's Naked Giants gave us an accidental jolt of prescience with "Age of Information," which seemed apropos to our situation here at WVEW as we struggle to comply with new reporting requirements for streaming licensing.  "Radio will have to change," tra la la.  Also liked "Folly Dolly" by Zizi Raimundi, who is coincidentally also from Seattle, and seems to have more of an Internet presence than a music career.  That said, "Folly Dolly" is guilty pleasure material with a Nancy Wilson meets Nico vibe going on.
On the inspirational tip, we liked "Rehwe Mie Enyim" by Y-Bayani and his Band of Enlightenment, Reason, and Love, although there's no way to know what the song is about as it is sung in the language of Ghana.
Finally, there was the continuation of CG's "Songs from the Dying Laptop" series.  This week, artists whose names begin with the letter E, iTunes style.  We heard from Eddie Hazel, Early Year, Elaine Lachica, Elizabeth Cotton, Experimental Dental School, and more.
A slightly drowsy start to the year, but in a good way.  Who has the energy for excitement?
January 10, 2018
Moving On
Fever Ray – Mustn't Hurry
The Wilderness of Manitoba – Head for the Hills
Gingerlys – Turtledoves
Eddie Hazel – I Want You (She's So Heavy)
Naked Giants – The Age of Information
Destroyer – Tinseltown Swimming in Blood
Zizi Raimundi – Folly Dolly
Early Year – All Ones and Zeroes
Ebony Bones – We Know All About You
Holy – Premonition / O / it shines through
Y-Bayani and his Band of Enlightenment, Reason, and Love – Rehwe Mie Enyim
Elaine Lachica – Tumbleweed
Elizabeth Cotton – Goin' Down The Road Feelin' Bad
Elizabeth Mitchell – Ladybug Picnic
Nicole Atkins – Darkness Falls So Quiet
The Luxembourg Signal – Blue Field
Elvis Costello – Tear Off Your Own Head
Elvis Costello – Radio Radio (Live)
Experimental Dental School – Basement Fever
Lady Lark – Move Your Body
Coolio vs. Chic – 1, 2, 3, 4 (Good Times Remix – Rhythm Scholar)
Evelyn Champagne King – Love Come Down