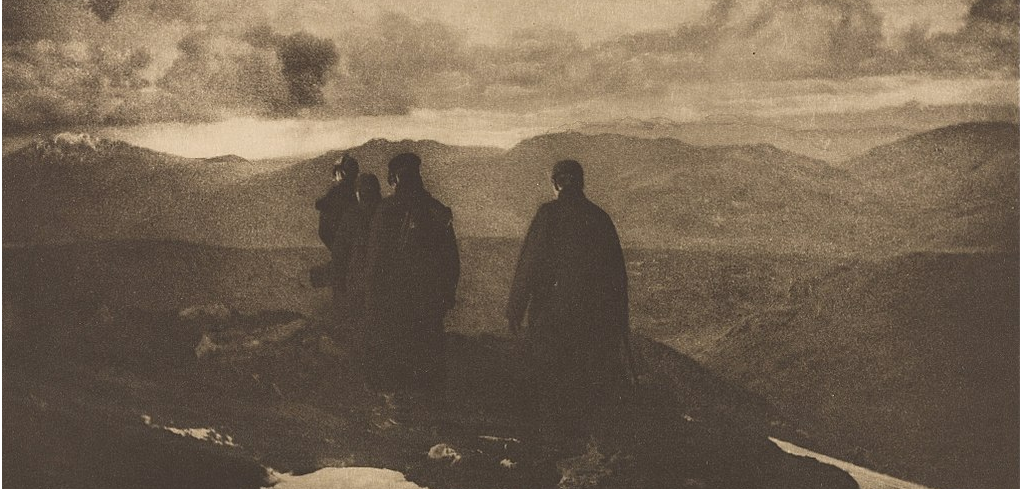 It's impossible to think about 2017 without some trepidation — there were so many low points.  Would we be nuked?  outlawed?  or just poked with pointy sticks?  These were trying times.  Musically, however, the trend was largely positive.  Musicians seemed to be waking up out of their Taxi-induced malaise ("shiny happy marketing music") into a mood less happy but with considerably more heart and soul.  There were a lot of great songs in 2017.  This list is just one possible sample.
Whenever I do one of these best ofs, I always notice themes that may or may not be meaningful but emerge in retrospect…  Here are a few, for what they're worth:  moonlight, fear, velvet, languages other than English, Joni Mitchell, the end of the world, k-pop.  Beyond keywords, there was that sense of despair that comes over people — esp young people — when some incomprehensible political outcome too bad to be believed wipes out their futures. Fortunately, the perennial theme of pop music is "Love," with a capital L and sugar on top. I took some solace in that.
I made two best of 2017  playlists.  List One, entitled "Shouting in the Dark" after The Mynahbirds song of the same name, is my attempt at a serious collection of genuinely good songs, but none so quirky that you have to do workarounds.  List 2 ("Pop and Other Distractions") houses all the folk songs and a big chunk of the poppier tunes.
The Courtneys, a punk pop group out of Vancouver, were my crush of the year. I actually bought their album, Courtneys II, and it was great. Their sound is both fresh and familiar, and they're adorable besides. Check out their video:
"Louisville" by Matt Pond is what a friend of mine used to call a grower. By the the end of the year, it had become one of my favorite songs, evoking a time, a place, a person, and a feeling with irresistible precision. I would almost classify this one as folk, a genre that got a bump in 2017.
Other ongoing faves were the 'smart' electropop songs of Rose Elinor Dougall and Maggie Rogers, Koma's reboot of Stereolab's political recitative, the medieval stylings of Oligarkh (from Russia), and The Weather Station, whose song "Thirty" sticks with you like a sad memory.
Then there were what I thought of at the time as guilty pleasures: Spiral Stairs "Emotions," which is utterly Spiral Stairs and gets me every time; Lana Del Rey's "Love" with its Twin Peaks guitar and general air of hipster romantic; and Father John Misty, who instinct tells me I should hate, but oddly I don't. "Pure Comedy" kind of nails it, although I wish it weren't so…
Which brings us to List 2, "Pop and Other Distractions." Pop really was my distraction this year, starting with Lana Del Rey in the early spring, followed by Selena Gomez in the early summer, and culminating in the double whammy of Poppy and Red Velvet in the late Fall. I blame Fluxblog for this entirely, but I also blame Donald Trump for forcing me to escapism. Pop can be fun, no?
But hard to place on a compilation CD. In the end, I went with folkier stuff for the opening to list 2 — I liked Sallie Ford's no-kidding-around performance on "Middle Child," and the pissed-offness of Matthew Squires "Debt Song" and Field Medic's "Mongols Pasture," a song about the Afghan War.
"La petite ouverture" by Bill LePage is more than its title implies, and provides the pivot to music with a dance beat — in comes  a whole slew of dancy tunes kicking onto the stage like chorus girls. (Bill would hate this paragraph.)
Speaking of things people would hate, I'm sure Joni would hate what Rhythm Scholar did to "Both Sides Now," although I love it. All these years later, it seems legit to remix her, and more than that, it really showcases her voice. Moving on, 2017 gave us some flowy female groups, like Alvvays (notable for clever lyrics on top of nice tune) and Lor, melodic but less pop, who are from Krakow. Selena Gomez' single "Bad Liar" is very pop but in today's mixed up world, it could almost be indie. For that matter, Split Single's "Untry Love" could almost be mainstream, "Joy" by FKJ could almost be late 80s, Noel Gallagher's "She Taught Me How to Fly" could almost be Oasis. You get the idea.
Where things get less categorical is the last four songs. Maggie Rogers — is she pop or not? Poppy — is she even real? (yes, she is). Red Velvet — so this is K-pop. And finally, "Prisencolinensinainciusol," a 1972 one-off by Italian entertainer Adriano Celetano which despite the 45 year gap seemed strangely fitting to close out 2017.
I had a lot of fun listening this year — it was a nice diversion from all the things I could otherwise be feeling crappy about.  As for the music, I was happy to see more diverse styles and instrumentation even if an awful lot of it is still electropop.
2017 Shouting At the Dark
Artist
Song
City/town
Blithe Field
In the Moonlight
Ohio
The Clientele
The Neighbour
London
The Courtneys
Silver Velvet
Vancouver
Matt Pond
Louisville
PA
Naomi Wachira
Beautifully Human
Seattle
Oligarkh
Tri Devi
St. Petersburg
Operator Music Band
Koma
Brooklyn
Rose Elinor Dougall
Closer
Brighton, UK
Spiral Stairs
Emotions
Northern CA
The Weather Station
Thirty
Toronto
Weaves
Walkaway
Toronto
The Barr Brothers
You Would Have to Lose Your Mind
Montreal
Lana Del Rey
Love
Thyla
Ferris Wheels
Brighton, UK
All This Huxley
Comrade Winston Smith
Philly
Father John Misty
Pure Comedy
Seattle
The Mynabirds
Shouting at the Dark
LA
2017 Pop and Other Distractions
Sallie Ford
Middle Child
Portland, OR
Jesse Malin
Meet Me at the End of the World
Queens, NY
Matthew Squires
Debt Song – Expl!
Austin, TX
Field Medic
Mongols Pasture – Expl!
SF
The Killers
O, Sad American Night
Las Vegas
Shelby Earl
The Man Who Made Himself A Name
Seattle
The Districts
Ordinary Day
Philadelphia
Bill LePage
La petite ouverture pour aucune occasion particulière
NYC
Joni Mitchell
Both Sides Now (Rhythm Scholar Loveheart Remix)
This Is The Kit
Moonshine Freeze
Uk/Paris
Alvvays
In Undertow
Toronto
Lor
Aquarius
Krakow, Poland
Selena Gomez
Bad Liar
LA
FKJ
Joy
Paris
Who Ha
Synthwave Belongs In A Museum
Austin, TX
Split Single
Untry Love
Evanston, IL
Noel Gallagher's High Flying Birds
She Taught Me How To Fly
Manchester, UK
Maggie Rogers
On + Off
Easton, MD
Poppy, Charlotte
My Style
LA
Red Velvet

빨간 맛 (Red Flavor)

South Korea
Adriano Celetano
Prisencolinensinainciusol
Milan