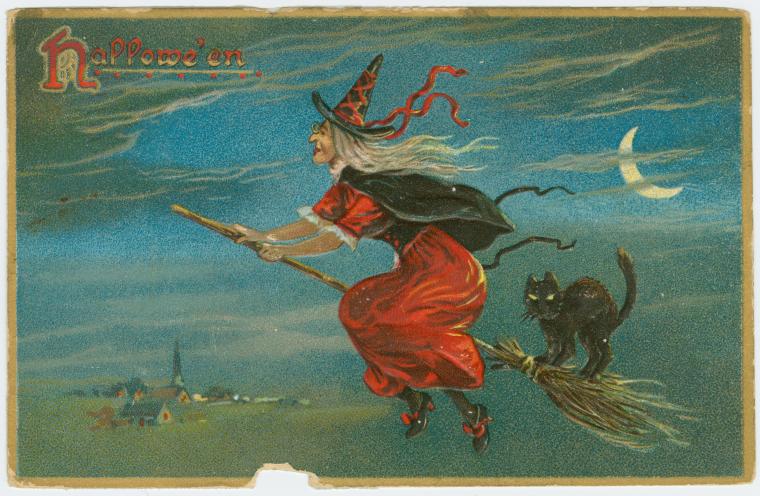 Doing a Hallowe'en show on the radio is always fun — it brings out your inner ham and suddenly you're playing sound effects records of haunted mansions and wishing you had Monster Mash on your iPad… This year's Bubble Wrap Halloween playlist consisted of two types of Halloween song. There are the songs that are actually about Hallowe'en and/or spooky things — "Thriller" and Whodini's "Haunted House of Rock" both fall in this category. Then there are songs with a scary word in the title but otherwise no or little connection to our culture's Fright Night.
This year's favorite Hallowe'en song is "Fashion Zombies!" by The Aquabats! from their 2005 Charge!! record. My guilty pleasure this fall has been "Witches in a Ritual" by Tenement, also out recently. Among this week's oldies were Donovan's "Season of the Witch" and Beat Happening's "Pinebox Derby." The Go Go archives gave us two classics, Trouble Funk with "Graveyard Groove" and George Clinton's "R&B Skeletons In The Closet."
Read on for the full playlist…
October 26, 2016
Stronger Than Witchcraft – Hallowe'en 2016
Black Amex – Pitch Black City
Donovan – Season of the Witch
Lynda Berry – Halloween with Dad
Robert Pollard – Love Is Stronger Than Witchcraft
Demo Version – Cruella de Ville
Beat Happening – Pinebox Derby
Whodini – Haunted House of Rock
Tenement – Witches in a Ritual
the Starlight Mints – Pumpkin
Ariel Pink's Haunted Graffiti – Fright Night
Springfield Middle School's Swing Choir 1978-79 – Commercials
The Postmarks – Everyday is Halloween
CoCo Rosie – The Moon Asked the Crow
Stars – Death to Death
Cameo – Rigor Mortis
The Aquabats! – Fashion Zombies!
The Tubes – Attack of the 50 Foot Woman
Trouble Funk – Graveyard Groove
Michael Jackson – Thriller
The Mekons – Ghosts of American Astronauts
Prince – No More Candy For You
Corusco – Twin Ghosts
Karen Elson – The Ghost Who Walks
Winterpills – Wanderer White
George Clinton – R&B Skeletons In The Closet
Albert Ayler – Ghosts – 1st Version