Considering that we practically live in their backyard, it's surprising that we never noticed Signature Sounds Recordings until now. Signature Sounds is a label out of Northampton, Massachusetts, originally focused on folk, Americana, and singer-songwriter music, and more recently branching out into rock and indie.  Folk is not usually my thing but recently I discovered the Winterpills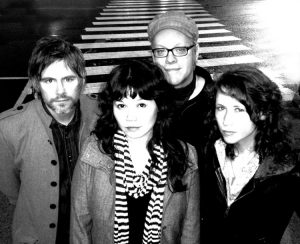 who fall into the category of "thoughtful and intelligent pop," a genre I enjoy.   It happened that their label was Signature Sounds, home to a number of other bands with whom I was familiar. This week on Bubble Wrap, we explored the pop side of the Signature Sounds roster, with music from Winterpills and labelmates And The Kids and The Suitcase Junket, all of whom released records this year.
Winterpills, you may remember, got a couple plays a few weeks ago when we sampled tunes from their 2014 release, Echolalia, a thoroughly enjoyable collection of obscure covers, including the gorgeous "Bye Bye Pride" by The Go-Betweens. This week, we dove into their back catalog as well as their latest album, Love Songs, for an overview of 10+ years of music. Some bands evolve from humble beginnings slowly over time; Winterpills started out great and kept getting better.  All their records are good, but if you want to start somewhere, pick up Love Songs and work back.
We also played a handful of songs from And The Kids' two full-length CDs, Turn To Each Other and this year's excellent Friends Share Lovers. We've seen these guys a couple times at Future Collective events, and have been impressed with their song-writing and musicianship. Their studio work captures the full-on spirit of their live show. And The Kids are a liberated band and it gives songs like "Cats Were Born" and "Strange To Be" their unique, almost otherworldly flavor.   Now playing all over New England….check 'em out.
Rounding out the Signature Sounds showcase was Suitcase Junket, another local artist we saw at a Future event. Suitcase Junket is an appropriate moniker for what Matt Lorenz does. It seems that a lot of his stage tackle (instruments) come out of a suitcase. Or is that just the bones? In any event, he gets a lot of sound out of his ramshackle assortment of junk yard instrumentation as well as his own throat — Lorenz also knows how to "throat sing," an exotic sound more usually practiced by Mongolian horsemen.  We played songs from his 2015 full-lengther Make Time and this year's Dying Star EP, including a live version of Wherever I Wake Up, crowd participation and all.
We started the show with someone named Justin delivering a keynote address to Festival of Justin participants at Oberlin College in the early 80s.  In it, the aforementioned Justin proclaims his philosophy of the importance of eating well and enjoying what one eats.  Ian Schoales likewise expounded on the corruption of hobbies by modern society.  Read on for the full playlist:
August 31, 2016
Signature Sounds Showcase
Justin – The Festival of Justin
Winterpills – Portrait
Winterpills – Burning Hearts
Winterpills – Celia Johnson
Winterpills – You Don't Love Me Yet
Winterpills – Freeze Your Light
Mavis Staples – Melody Cool (Mellow Dub)
Lake Street Dive* – I Want You Back (Jacksons cover)
Ian Schoales – Hobbies
Larrikin Love – Horse With No Name (America cover)
And The Kids – Pangea
And The Kids – Cheer For Babies
And The Kids – Cats Were Born
And The Kids – Strange To Be
Kid Creole – Me No Pop I
Lightning Head vs Koayani Orkestar – L'Orient est rouge
Glass Animals – Gooey (Lovetaps Remix)
Suitcase Junket – The Rain
Suitcase Junket – Twisted Fate
Suitcase Junket – Wherever I Wake Up
Gene Wilder – Pure Imagination
The Wombats – Greek Tragedy
? – ?
*Lake Street Dive are another Signature Sounds recording artist.