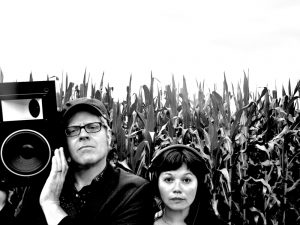 With a wedding in our recent history, we went with a tried and winning formula for our August 3, 2016 show: old, new, borrowed, and blue.  We pulled together tracks by Galaxie 500 and the Go Betweens (old), a pretty cover from Winterpills (borrowed), a bunch of stuff from 2013 through this year (new), and the obvious pop gem "Blue Ice" by Shout Out Louds.  On the funky side of things, CG played nothing but DC Go Go all night long.  Are you tired yet? hell no!  All would have been perfect if only I had remembered my iPad where all the music that wasn't old resided….
So real quick I re-learned how to operate the board, CG ran back up High Street to get the iPad, and I nervously engineered my way through the Old set, picking up a quick point at the end for Borrowed.
Top tunes for me: Rare Essence's "VIP" for monster party rocking, Go Betweens "Bye Bye Pride" for gorgeosity, Thao & The Get Down Stay Down's "Nobody Dies" for originality, and the Shout Out Louds "Blue Ice" for Swedish pop goodness.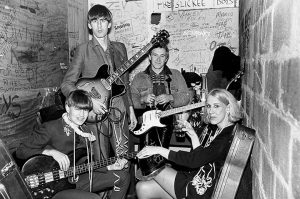 In case you're wondering how I came to be playing the Go Betweens, there is a story.  Alert listeners and/or readers will recall that I played "Bye Bye Pride" as covered by the Winterpills last week.  In the interim between shows, I happened to be walking by the local used media shop Turn It Up on Main Street when I had a sudden impulse, as follows: "if they have the Best of The Go Betweens, I will buy it."  To my amazement (I didn't even know if the Go Betweens had a Best of), they did and so I had to buy it.  It's a nice compilation of a dozen or so songs the band finds essential plus a second disc of live tracks, acoustic and electric.  If you've never heard any of their music, this record is a good place to start.  Read the full Bubble Wrap Radio playlist below:
August 3, 2016
Old, New, Borrowed, and Blue Songs
Galaxie 500 – Here She Comes Again
Galaxie 500 – Tugboat
Luna – Slash Your Tires
Go Betweens – Bye Bye Pride
Winterpills – One Day (Sharon Van Etten cover)
AM-FM – All We Want Is Go-Go (Morlack Rebeef)
Ah Boo – Jungle Pac Man
Chuck Brown – The Party Roll
TW Walsh – Shallow Water
Ku_Mo_De – Shelling out for a tiki bar
Beach Gossip – Stupid Surf Song
Tiger Waves – Fields
Superchunk – Me & You & Jackie Mittoo
EU – Crystal Skate 6/5/85 Part 1, 2, 3
School of Seven Bells – Open Your Eyes
Thao and the Get Down – Nobody Dies
Shout Out Louds – Blue Ice
The Playwrights – Leave It For The Archaeologists*
Suttle Thoughts – Diamond In The Back
Rare Essence – VIP
911 – 911
Ten Strings and a Goat Skin – The Ukrainian Expedition
*It takes an archaeologist to find any trace of the Playwrights these days if searching the Internet is any indication, and the band was only out 10 years ago, well into the Internet age.  Gone, they are.  Too bad, they were one of the best British political math rock bands ever.