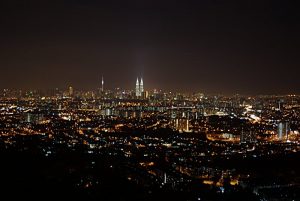 Usually our Bubble Wrap shows are an assortment of tracks from near to far and then to now, but recently whole chunks of related music have been falling into our laps, and this week, we decided to showcase some of it.  It gave us a chance to acquaint people and ourselves with indie labels and artists that we might not otherwise hear.  We started in Malaysia.
A couple weeks ago, we were contacted by the band Bunyi Sembunyi from Kuala Lumpur who wanted to alert us to their recently released EP Ribut Ribut Itu Menjadi Reda Dan Akhirnya.  As far as we know, frogs are not implicated.  Bunyi Sembunyi (which means 'hidden sound' in Malaysian) is a three piece band producing atmospheric "prog" in the style of Mogwai and other purveyors of the soft-loud school of shoegazery rock.  According to their songwriter and de facto leader, their primary influence in Western music is Pink Floyd's Dark Side of the Moon, and that is audible to some extent.  But if you forget all that and just listen, there's a soundtrack here that could serve in a spaghetti Western (Dua Utusan) or even a European film noir (Bayangan Dari Kebenaran Abadi).
We played three tracks from the Fixture Records label comp of 2015. Our favorite was "You Told Me Not To Talk To Your Boyfriend" by Sheer Agony which reminded us a little of bis.  Fixture is a Montreal label run out of its founders' apartment.  They  release music by Brave Radar, Each Other, and Freelove Fenner, among others.
There were three tracks from Orchid Tapes' new compilation of off-hand, low key pop entitled Radiant Light.  Although Owen Pallett is somewhat the star of the label, our favorite track was Foxes In Fiction's "Extinguisher."  We were also surprised to learn that label artist Alex G is "all over" Frank Ocean's Endless, making our discovery of Mr G all the more timely.
In keeping with the theme of three, we also played a trio of tunes from De La Soul.  Why, you may ask?  Because we discovered that the three great early records by De La Soul are not available for streaming anywhere, due to the sampling issues that led to their second album being called "De La Soul Are Dead."  Our assumption was:  De La Soul are probably woefully underplayed if their best stuff is essentially off the market so let's play some.
Jamila Woods just released her album HEAVN as a free download on Sound Cloud, because she has things to say and she wants people to hear them.  Ms Woods is a Chicago artist in the R & B vein, but closer in vibe and intensity to the ubiquitous Frank Ocean.  There are interstitial "skit" tracks with interview excerpts and artist statements.  The lyrics don't play games — it's a message album, no doubt.  But what's really impressive is Woods' unique voice and stellar musical arrangements, which allow her to say all these heavy deep things within the context of really appealing pop songs.  Don't take stellar lightly; like Sun Ra, Jamila is not of this world.
Finally, we played a new track from Frank Ocean's new release Blond, because this record is all we've been hearing about for three months and we felt like we had to.  We selected "Pink and White" because it's fairly poppy and the lyrics are clean, which is kind of an issue for us on community radio….  We'll find a way to play a few more before long. Played "Sweet  Life" too, because that's the one that started it off for us way back in 2012.
The full track list is below.
August 24, 2016
Accidental Showcase:
Bunyi Sembunyi – Bayangan Dari Kebenaran Abadi
Each Other – Tongue Tied
Sheer Agony – You Told Me Not To Talk To Your Boyfriend
Freelove Fenner – George Harrison Cat
Prince – 17 Days
Billie Jean – Michael Jackson (home demo)
Michael Jackson – Enjoy Yourself
Soccer Mommy – Memory
R. L. Kelly – Mad
Alex G – July 27 2015
Foxes In Fiction – Extinguisher
Bunyi Sembunyi – Lela Rentaka
De La Soul – Roller Skating Jam Named Saturdays
De La Soul – Say No Go (New Keys Vocal)
De La Soul – Ring Ring Ring (Party Line Mix)
Jamila Woods – Bubbles
Jamila Woods – LSD (featuring Chance the Rapper)
Jamila Woods – Breadcrumbs (featuring Donnie Trumpet)
Glass Animals – Life Itself
Jean Tonique – Lit Up (featuring Dirty Radio)
Frank Ocean – Sweet Life
Frank Ocean – Pink & White
Rare Essence – Turn It Up (with DJ Kool)
Parliament – Supergroovalisticprosifunkstication
Slim Harpo – Shake Your Hips