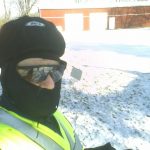 I was ready to move on to 2010 for this week's Bubble Wrap show, but my partner said no, so I dove back into the playlists and we came up with our usual glom of everything that we didn't play last week.  I was in an electro mood for some reason (all popped out) so I stuck to the Cut Copy, Fischerspooner, Gold Panda side of things.  CG played a set of go go to start off followed by diverse mix of pop and indie (Yes, to "River of Love", auto-tuner and all!)
Here's the playlist:
May 11, 2016
I Look Psychotic In A Balaclava*: More Songs of 2009
911 – Time To Party
EU – Getting Hot
Trouble Funk – Dancin'
Aceyalone – Power to the People
Fischerspooner – Supply and Demand
Tycho – Coastal Break
Anti-Pop Consortium – Volcano (Fourtet Remix)
Cut Copy – Lights and Music
U.S.E. – River of Love
Rubies – Stand in a Line
TuneYards – Hatari
Uuvvwwz – Castle
White HInterlands – Icarus
White Mountains – Bells
Gold Panda – Snow and Taxis
Deastro – Get Frostied
Crystal Castles – I'm Not In Love with Robert Smith
Vampire Weekend – Horchata
Voluntary Butler Scheme – Foolish
Wild Beasts – All The King's Men
Shout Out Louds – Fall Hard
Jenny Lewis – Rise Up With Fists!
Dr. Dog – Shadow People
YACHT – The Afterlife
Hot 8 Brass Band – Sexual Healing
Freak Favorites: "Power to the People" by Aceyalone and "Shadow People" by Dr. Dog….  Hmmm, is there a theme within a theme?
* From Vampire Weekend "Horchata"