As we struggled to figure out how to program our radio show, Bubble Wrap, we decided to focus on the indie music of the 2000s, starting with the first year for which I had a lot of music, which was 2004.  To put 2004 in context, it was the fourth freaking year of the Bush administration, Kerry (yaaaawn) was running for president, and some of us were not in the best moods.  The music, oddly enough, reflects that ennui.  We weren't so much bored as beaten, no options, no hope for change…
Bush won that election, needless to say.  Musically, we got Another Morning With Kathleen, a reminder that The Revolution Starts Now, and the gentle rejoinder, "It's All Good."  The Magnetic Fields put out the I record that year, one of their all-time best (we played I Don't Believe You).  Arcade Fire gave us Neighborhood #3. I discovered The Playwrights.  It wasn't so bad.  Read on for specifics:
March 9, 2016
Songs of 2004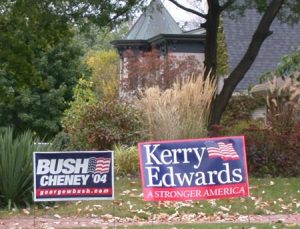 Manual w/Syntaks – Bayside Drive
Mouse On Mars – Wipe That Sound
Steve Earle – The Revolution Starts Now
Boom Bip – Last Walk Around Mirror Lake
Visionaries – Pangaea
Guided by Voices – Girls of Wild Strawberries
Treeball – Bolivian Adventure
Magnetic Fields – I Don't Believe You
Playwrights – National Missing Person
Nouvelle Vague – Guns of Brixton
Prototypes – Décider
Modest Mouse – The Good Times Are Killing Me
American Music Club – Another Morning With Kathleen
Crown City Rockers – Another Day
The Gimmicks – Ya La Me
El Parro Del Mar – It's All Good
Beatles – A Day In The Life
Chuck Brown – Live 1987
Please note:  We are not strict about years.  In any given show, we may play songs from a variety of years.  Most of the songs in this show were from 2004, but by no means all.