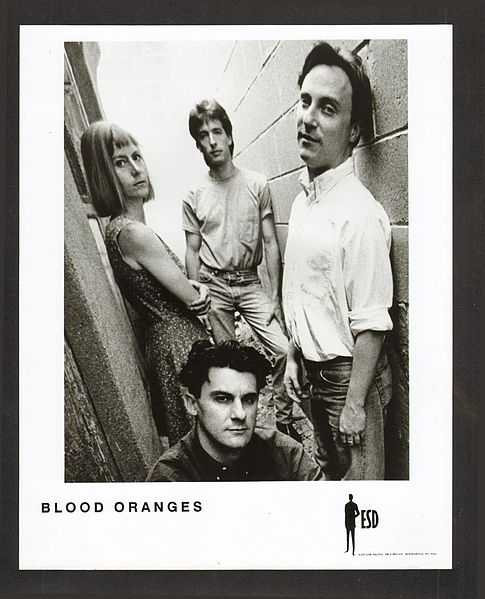 Since The Blood Oranges seem to have vanished without a trace, it seems as good a time as any to mention that they were one of the great punk-bluegrass bands of the early '90s.  Now that I type that, I can see why they may have had trouble finding their niche, or maybe it was because their niche was too small.  Either way, they be gone, but not forgotten, at least not by me.
I first saw them at the Paradise in Boston, on a Tuesday night in 1990, as part of a B104 radio promotion that apparently was not as successful as it could have been.  Our party of two comprised half of the total audience.  Yes, B104 drew four people to the show.  But I digress.  The Blood Oranges opened and professionals that they were, they looked neither to the left nor to the right, but simply played right through one of the most amazing country rock sets I had ever heard.  They had just released their debut CD Corn River which contained such chestnuts as Little Maggie and Shady Grove, along with a batch of Jim Ryan's inspired originals including Houseboat, Incinerator, Pounding Pipes and other sardonic gems.  Their music was pure, high and lonesome, but it also sounded totally new and I was blown away.
What people realized right after that show was that The Blood Oranges were a powerhouse group with not one but three great singer/songwriters (Ryan, Cheri Knight, Mark Spencer) who were all killer instrumentalists to boot.  Their musicianship was in evidence from the first and I'm happy to say they went on to some success in the alt-country world.  The Crying Tree, which I recently reacquired on CD from a junk shop downtown, was probably their most successful record and deservedly so with many more great tunes.  But the song I miss to this day is Firehouse from their Lone Green Valley ep, a song so perfect for its genre that I became convinced it had been a hit for someone else long ago, possibly before I was born.  But no, it's Ryan's.
They broke up in 1994 for having too much talent for one band, I always thought.  But if you happen to see any of their records, buy them.  If you see the East Side Digital label compilation from 1996, you can buy that too.  And if you see Lone Green Valley anywhere and it isn't beat to shit and Firehouse still plays, send it to me….