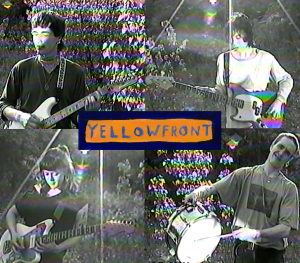 Yellowfront is a four-piece "heart-rock" band from Brattleboro, VT. Their self-titled debut Yellowfront was released in November 2018 and it's a gem.  You can find it on their Bandcamp page.  Look out for their new full-lengther due in August.
What's a short description of your band and music for peeps who do not know?
Yellowfront is the four of us – Asa, Mackenzie, Thom, and Asher – and we've been pretty active since November, when we put out our first album. We play music that's sometimes called power-pop or heart-rock, and has got lots of sparkly, shimmery things about it. The songs are mostly short, and that's something we are really happy about. Some of the music comes from dreams, from being in love, or from the feeling of being a little kid. And maybe that kid is wearing a floppy blue hat, sailing off into the distance on a raft made of driftwood – a very real and very true form of every single person.
Can you tell us how it all began?  How did you choose the name?
We all started playing in Brattleboro a couple years ago, each with our different projects, and finally joined forces to destroy evil. Thom is an amazing and inventive drummer, and also the recording mastermind. Asa plays rhythm guitar and started out with a band called A Million Yellow Flowers. Asher picked up the bass after never ever playing a fretted instrument and mastered it in like two months, and Mackenzie joined just recently to shred some lead guitar. Her last band Pneumashoes was a true Brattleboro miracle, but they're no longer playing together.
"Yellowfront" is a name borrowed from a grocery store where Thom and Asa grew up, and we wanted a name that maybe could ground us in that memory of us being kids, and in the memory of the place we came from. And Yellowfront was always one of those places where the forces of good and evil would collide.
How do you think being in Brattleboro has affected your music (or yourselves)?
Brattleboro is a living town. It has a temper and a mystery and a magic like nowhere else. Energy collects and then erupts like a geyser, filling up the air with either chaos or love. Spending time in the streams and streets and the mountains of Brattleboro you get this really ancient feeling, like you can feel the entire weight of its past. And the land here does have a very huge and powerful history as a sacred place and home to so many indigenous people, and a place where tremendous loss occurred. We are so lucky to be here now, and there's so much we have to learn from the place itself.
This town is an amazing place to write music cause it doesn't let you escape the truth, not even for a second. There's a lot of suffering here, a lotta people struggling and hurting, but there's also the constant reminder that life is the greatest gift, and that the world is made of magic.
Another nice thing about being musicians in Brattleboro is that almost no one here gives a hoot about getting famous. We have talked about moving to a city, or even down to Western Mass, but I think we're happy here, and I think we're able to focus so much more on the actual writing of music when we're away from the busy and very social world of rock and roll. In Brattleboro, being a musician doesn't let you turn away from what's real, even if you want to. We've got everything we need right here.
What are your future plans for the band?  What kind of music are you doing now?
We will be releasing another full length album in late August, and it will sound pretty different – more lyric-driven and a little more self-aware, I think. And much more layered and textured than the last batch of songs. I think we're really proud of how things are sounding, and the changes are coming really fast. We're just so lucky to have access to good recording tools, and to live in a house where we can play music at any hour. It's crazy that any of this is possible!!
What is heart rock?  A local thing? We noticed that Brattleboro seemed to be the epicenter.
I think we came to "heart-rock" after feeling totally lost trying to contact venues and bands and promoters for our first tour. It's hard to describe your own music, and so many people want you to name a genre. Can you believe that?! And I think I had heard Beat Happening and Radiator Hospital described as "love-rock" once. And so I thought it might have something to do with clumsy, earnest lyrics and bittersweet melodies and stuff like that. I don't know, it seems to work.
Also, "heart-rock heroics" sounds good, doesn't it? Our Brattleboro friends The Sad Joys (formerly known as Michael Jordan Touchdown Pass) could get the heart-rock label also. And maybe some other bands of Brattleboro lore too, like Happy Jawbone Family Band. There's definitely no "Brattleboro sound," but I'd say there's a very real "Brattleboro feeling."
Are you touring this summer?
We're about to head out on a 16 day tour with our sister band Lahnah. There will be six of us blasting around eastern, southern, and midwest US in a 1979 Ford econoline, bought on craigslist for $250. We'll be camping most nights, seeing places we have never seen, and playing a bunch of music. So excited, and so nervous. This is Yellowfront's third tour, and the longest single stretch we've done. I think the most exhausting part of tour isn't really playing 16 shows in a row, but just attending 16 shows in a row. So much sound… And it is amazing to hear so many new things night after night, but when we get home we probably won't be able to listen to music for a couple weeks.
What's your favorite part of being in a band together?
For the most part we are family, and all live together. So there's endless trust and patience. The best part of being in a band together is feeling really supported in all ways, making dinner together, being able to experiment, and having perfect faith in each other.
What was the best live show you ever played?
The best show we ever played was probably one in Brattleboro. There's a really fun, lawless little pub in town called McNeill's, and I think we've had some of our best nights playing there. Home turf! And it's nice when people sing along, and that seems to always happen there. We played a fun show at our place (Pony Mouse Miracle House) recently, and that felt good too. It's just so much easier to play when you're surrounded by people you love. Any show in town is usually a happy one.
Any ideas for summer hit of 2019?
The summer hit will be a song called "Squirrels" written by Ruth Garbus. It's not out yet, but I think it'll be released on August 30 along with a bunch of other amazing new songs. She's one of the greatest musicians ever, and lives right here in Brattleboro.
Tell us up to three favorite bands or artists from within 100 miles radius of Brattleboro, VT.
Close Body Talent is an amazing band. Weird and Jazzy and funny and good friends of ours from WeMa. Members include Wendy Eisenberg (well-known jazz guitar hero) and Jake Lichter (lunch cult).
Bridge of Flowers is as real as it gets!! Western MA super lo-fi mopey rock and roll. Jeffery is a courageous person and so prolific.
Older Brother is the best band around .We toured with them this past winter and it was sweet sweet sweet. They're from Providence, which is like 99 miles away. I say this band deserves the nomination!!!  
---
Here are some links to the local artists we mentioned:
Lahnah: https://father-spatter.bandcamp.com/album/family-songs
The Sad Joys (formerly Michael Jordan Touchdown Pass): https://michaeljordantouchdownpass.bandcamp.com/album/breakfast-2
Ruth Garbus: https://ruthgarbus.bandcamp.com/album/kleinmeister
Happy Jawbone Family Band: https://happyjawbone.bandcamp.com/album/the-silk-pistol
Pneumashoes: https://pneumashoes.bandcamp.com/releases
---
After years of thinking about it, we've finally kicked off the 100 Miles of Indie series here on IndieDisco.  This interview is the first in that series, which begins in the hallowed hollows of Brattleboro, VT.  Where will this lead?  Only participating bands know for sure.  Thank you, Yellowfront!