In January of 2002, we interviewed Adriana Kaegi of Kid Creole and the Coconuts. Here's that interview:
…..
IndieDisco was very fortunate to spend a bit of time with Adriana Kaegi, co-founder and creative director of Kid Creole and the Coconuts. She's currently creating streaming media content for the fashion world and has designed and introduced her own collection of fashion accessories. We asked her to hop in the time machine and tell us how it all began.
IndieDisco: Tell us a bit about how you got started in music and dance….
Adriana Kaegi : I started with dance lessons at the age of 7 and choreographed my first dance at the age of 10, since, dance and music has been a big passion in my life.
ID: When and how did you get started with Kid Creole and the Coconuts?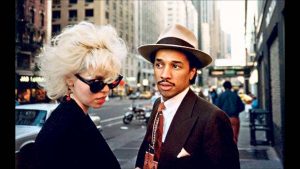 AK: I met August Darnell and Coati Mundi of Dr.Buzzard's Original Savannah Band (then a number one pop group) and I loved their unique approach to music. On my 20th birthday, we went for a drink at a jazz club to celebrate, and both men told me how unhappy they were in the band and how they would prefer to have a band of their own. That night, March 17th 1979, we came up with the concept and the name and cofounded the group. Very soon after, we had recorded some songs and performed at Andy Warhol's packed club.
We got a record deal that night and were on our way from that day on…..
ID: What was your role in the Coconuts?
AK: I was mama coconut. I was responsible for choreography, costume design, set design, hiring, firing, training, etc……
ID: Your stage shows are legendary. How did they evolve, and how were they put together?
AK: They were put together as a combination of our ideas and restriction of budget, and with a lot of sweat.
ID: Kid Creole songs always seem quite personal and autobiographical. While this gives the audience something very electric and entertaining, was it difficult at times to have personal issues being worked out on stage and in the studio? Can you tell us about the song "Dear Addy"….
AK: "Dear Addy" does have my name, but as for the exact content of the text, that has little to do with me. However, August Daell, did write many songs about me such as "Gina Gina," etc.
ID: The Coconuts choreography and costumes were an integral part of each performance — complex, athletic, fun, and witty. Can you walk us through the development of one your favorite routines? How do you bring a song to life onstage?
AK: I just follow my instincts and always stay true to my artistic expressions but respect the restrictions such as space, most choreography had to be danced on a 4×4 inch space.
ID: I'm not sure many people know this, but the Coconuts released an album that featured your lead vocals on two songs, "Indiscreet" and "Kriminal-Tango." Can you tell us a bit about this project, and what "Kriminal-Tango" is about since it was sung in German?
AK: That was The Coconuts first solo lp. "Criminal Tango" is an old schlager I grew up listening to in Switzerland. I always loved it and wanted to cover it. This was the first time, I sang with a 50 piece orchestra.
ID: Despite critical acclaim in the States, it seems that Europe was more accepting of the group. Is this your impression? Why do you think this was?
AK: European radio programming and european mentality towards races and eclectic music.
In the US everything seems very segregated. Because we had a colored lead singer and 3 blond white back up singers, we could not be marketed as R&B or anything else, so we often could not fit into any radio programming format, etc….
ID: What led you to leave the group?
AK: I did what I could and could do no more. I needed to move on and do other things.
ID: Tell us about DearAddy.com….
AK: Dearaddy.com is a streaming media communications firm which mostly films the fashion shows for major on-line fashion magazines. There is also a new dearaddy.com shop which is an accessory line I created and currently these designs can be bought at Bloomingdales and other stores.
ID: What led you to streaming media?
AK: It was new and exciting.
ID: Finally, do you feel independent?
AK: I am independent and always have been!!!
ID: Thanks for taking the time with IndieDisco!
You can find out more about Adriana Kaegi's current work at dearaddy.com
…
Update 2017: dearaddy.com is now addy.com and has been a successful media company since this interview. Go get a copy of her documentary about the band!