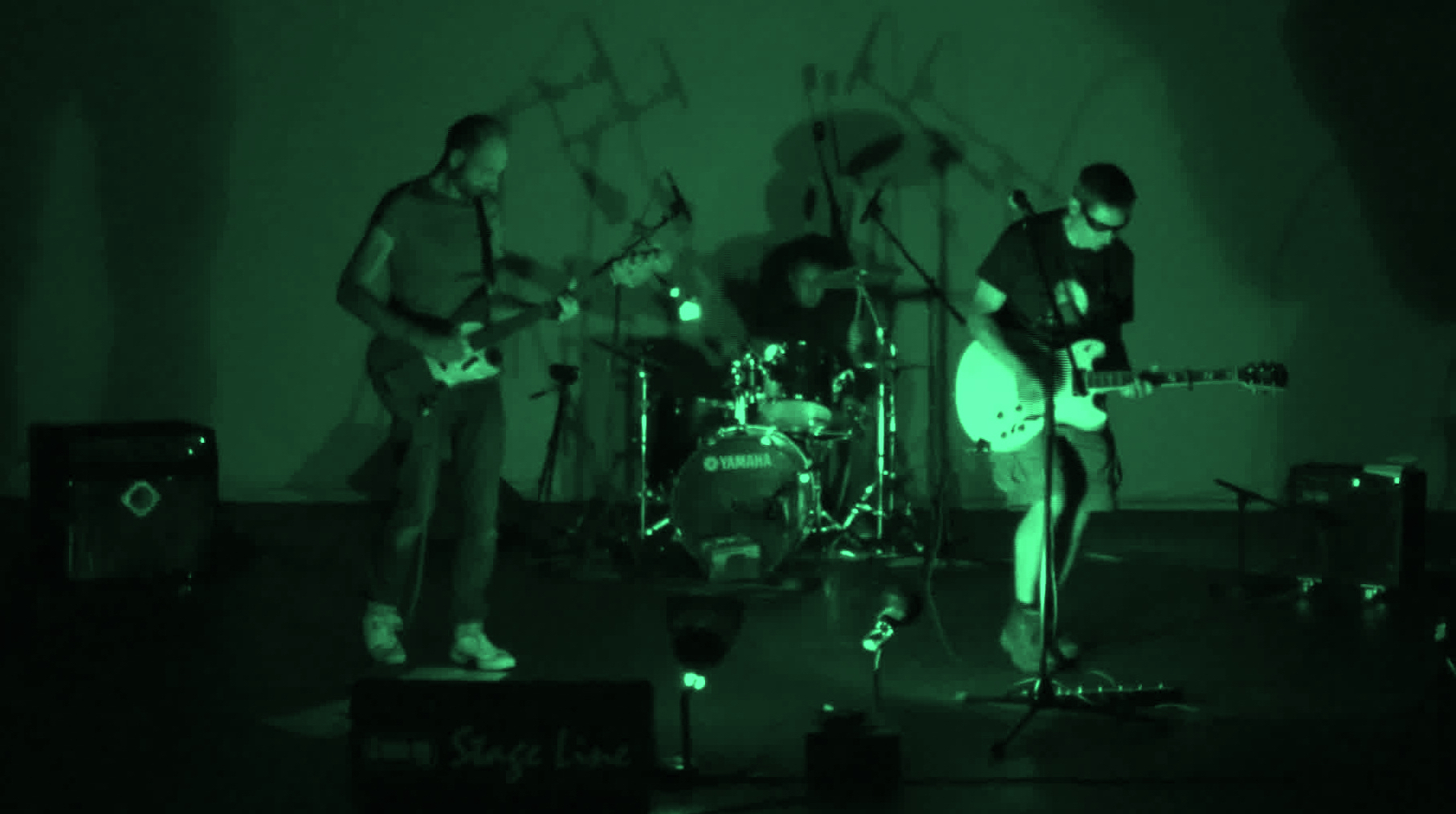 Origami Horses got in touch with us many weeks ago to tell us of their new EP Everybody Smile, a refreshingly edgy selection of five songs (three studio recordings and two live versions of the same tracks) that will, in fact, make you smile.  For starters, it's nice to hear some energy after all the languidity in the indie music of recent years.
We listened and liked the entire disc, but the song we keep coming back to is the implied title track "Smiler" — a bad relationship breakdown with a darkly bluesy Delakota vibe.
Origami Horses remind us a little of certain other British bands of the Nineties and Aughts including Prolapse and The Playwrights, both of whom retain a punky core to their arty rock. As for Origami Horses, their songs are modestly experimental and generally peppy, with a skittery off-center sound that keeps them safely out of the mainstream.  But even if Origami Horses are giving us only the musings of a trio of youngish post college musicians wondering what is up with the world while they plot their next career mo pint at the pub, they do it with verve.
Origami Horses are no doubt busy, but nevertheless they generously consented to our three question interview with a few entertaining comments of their own on the side.  Enjoy!
Origami Horses Interview
Date:  November 17,  2016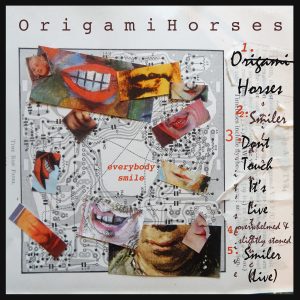 Thanks for getting in touch and saying nice things about our humble musical offerings . Apologies if email a little pithy but try to keep things brief and to the point.
Don't really have a 'press pack' as the typical response to any contact we make is usually a deafening silence, so you have wrong footed us proper by getting in touch.  We are trying to adjust to this new scenario the best we can.
Briefly, Origami Horses founded about 3 years ago in the town of Canterbury, UK, the home of Thomas a Beckett, Christopher Marlowe and the original icon Robert Wyatt, a cool mural of him in wheelchair sits behind the cinema.
3 piece townhall combo of guitar , bass & drums with everyone chipping in on keyboards.
We put stuff out on the Metal Postcard label, very nice people based in Portland (that's the one in the USA).
We have an album on Metal Postcard called In Dub & In Love and here are some links if interested.
Listen: https://origamihorses.bandcamp.com/album/in-love-and-in-dub
Download : https://www.dropbox.com/sh/4x26s4eu4kt8wvs/AABuJJRvuNPva2ByPjVpxLFRa?dl=0
Things we like to listen to and may inform our music a little are:
Old stuff : Velvet Underground, Wire, Gang of Four
Not so old stuff : Pavement,  Sebadoh
Recent stuff : Parquet Courts, Future of the Left, Fat White Family
ID: Why should everybody smile?
Everybody should smile because it's good for your health and good for your friends. However, as the US has seen fit to elect a 5 year old to the most important political office on the globe, this is getting increasingly hard to keep up. There is also a Brian Wilson fixation at work here, so, everybody, Smile!
ID: Do you think it's time for punk / rock / guitars to make a resurgence?
Punk/Rock/Guitars never went away! The scene round here south of London is full of noisy, edgy guitar bands. Wonderful!
ID: Will you be bringing your edgy pop sounds to the United States any time in the foreseeable future?
We would like to gig in the States but the chances of anyone covering our costs and setting up some dates are about as likely as Donald Trump fundraising for Black Lives Matter. Metal Postcard Records are lovely but broke. So we gig in our area, sometimes London and this summer a couple of festivals in far flung places like Reading.
Again, thanks for getting in touch,
Dave, John, Matt, Origami Horses
More about ORIGAMI HORSES
3 piece alt /lofi based in Canterbury , Kent , UK
EP Release by ORIGAMI HORSES on Metal Postcard Records 
https://www.facebook.com/MetalPostcardRecords/
Title : EVERYBODY SMILE  ( Cat No . MP184 )
Four studio efforts and & live track recorded at the Lighthouse Club , Deal , Kent UK 2016