In 2002, we got in touch with Dawn Silva to discuss the Brides of Funkenstein, Parliament, Funkadelic, and a whole range of fun stuff, including new music she had just released.
Dawn Silva
2002-10-25
Some people spend their whole life wondering what they should be doing. Others go to a concert, decide they want to tour with the world's greatest bands, then go do just that. Dawn Silva falls into the second category. IndieDisco had the great pleasure of taking some time with one of the original Brides of Funkenstein to discuss the role of women in funk, and much more.
IndieDisco: It all starts somewhere. How did you get started singing and who was your inspiration?
Dawn Silva: It was my parents who sparked my interest in music as well as being my inspiration. My father had one of the greatest voices I ever heard and, whoa, could my mother dance. I grew up loving the music they played –Marvin Gaye, Donny Hathaway, James Brown, Al Green, Billy Eickstein, Ray Charles, Sly & The Family Stone and yes, they even listened to the Beatles and The Rolling Stones, various Motown artists and early Parliament records.
Saturday nights were special in our home. Dad would gather up all of us, 5 kids, in front of the stereo and make up vocal parts for each of us to sing. My father was Catholic, and we attended early Sunday mass. I loved the eerie acoustic's that bounced off the walls at St. Mary's Cathedral and joined my Dad's choir when I was seven. My mother had praise and worship at the AME Methodist church. Immediately after mass we would go to my mother's church. I was intrigued with the freedom to sing what you felt in my mother's church so I joined the youth choir at age eight.
My sister, Paula, and a cousin, Judy, formed a dance group when I was 12 and we started doing local talent shows in Sacramento. We won for 2 straight years. The third year we lost out to a vocal group. That's when we decided, time to form a singing group.
ID: Did you know what you wanted to be when you grew up?
DS: I wanted to be a writer….. then a dance teacher……
After seeing Sly and The Family Stone in a live concert, I wanted to be part of a famous group.
ID: Really? And you ended up joining them! Tell us how you met up with Sly and the Family Stone.
DS: I met Sly through trumpet player Cynthia Robinson. My first official gig was at a recording studio called the Record Plant in Sausalito, California. This was my first recording session, and the beginning of a long funk journey.
ID: What do you think it was about the group that produced so many uplifting, danceable, protest songs?
DS: First and foremost their music was destined to be uplifting because every song was filled with the spirit of their gospel roots. Second, Sly Stone. He is and always will be a genius. He had the gift of getting your attention through his words, melody, music, his voice. Babies Makin Babies…. Caught Me Smilin… Riot Going On…There were no videos back in those days, Sly and the Family Stone forced you to use your imagination. Their high energy, electrifying music, down to the simplicity of a simple song, I feel were not exactly a protest, more so, the sign of the times.
ID: Most people seem to learn a lot from their first job. What lessons did you learn from Sly?
DS: I learned from working with Sly that "Anticipation is a Mother"
Sly turned a naive background singer to a professional vocalist. I didn't even know how to hold a microphone when he hired me. He had a way of bringing the best out of anyone. To him I will forever be grateful.
ID: While you were in Sly and the Family Stone you got to tour with Parliament and Funkadelic. What did you think of the P-Funk crew?
DS: My first honest impression?
ID: Yeah!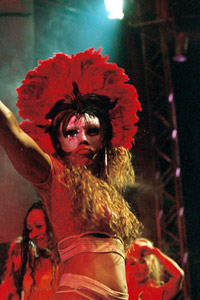 DS: Ha ha ha ha!! I thought they were quite mad!! They scared me….. ha ha ha……Never seen or heard anything as wild and bizzare as P-Funk!! ha ha ha!
ID: So you had to join them, right? Was it difficult to make the move from the Family Stone to the Mothership? Did you sense what was about to happen?
DS: With all of the talented and created individuals in P-Funk it was easy to stay on the Mothership. However, I did miss working with Sly.
Did I sense anything? No, Not at first. I knew that they were very popular, but I had no idea to what extent. It's difficult to see what's going on around you when your in the eye of the storm. In the middle it's quiet and calm.
ID: You've performed on most of the greatest P-funk albums of all time, from "One Nation Under a Groove" to "Motor Booty Affair" and "The Electric Spanking of War Babies" plus albums by Fred Wesley and the Horny Horns, Edddie Hazel, etc. Were you given written parts to sing? Did they just play some new music and ask you to come up with a part? How did writing and recording work during this phase? What was it like in the studio with the "P"? 
DS: Reflecting back I don't remember following any structured format. At the time I don't think it made much of a difference who wrote it. If the part was considered the "P" it was going down on the track.
The studio was usually filled to capacity with record company executives, engineers, musicians, vocalists, fans, journalists, geepies (another word for young groupies) –ideas were bouncing off the walls and George was the magnet. How he managed to capture all of the creativity that flowed non-stop in every recording session and apply it to the songs is still a mystery to me.
It just seems to me that the tracks were already recorded by the time we got to the studio. It could be any one in the group who wrote the rhythm track –Bootsy, Gary Shider, Junie Morrison, Rodney Skeet Curtis, Jerome Brailey, Bernie Worrell, or even George's son Tray Lewd. Someone in the corner would hum a melody, maybe it would be Ray Davis. One or more of the girls –Lynn Mabry, Mallia Franklin, Debbie Wright, Jessica Cleaves, Jeanette Washington, Jeanette McGruder, Sheila Horne, Shirley Hayden, Linda Shider –would add a note, a word, a phrase. Next thing you know, everbody's singing.
Bernie Worrell would start to finger some notes or Michael Hampton, Glen Goins, or Boogie Masson would say, "I got a part, and George would say, "Put it down". I might sing something, and George would say, "I hear you, Ok, double it" Once you were behind that microphone you added your own flavor.
ID: Let's talk about the women in the group. What role did they play? Did the women in the P-Funk write or produce any songs? 
DS: I feel the women in P-Funk played a huge and significant role in terms of contributions to the group. Not only the singers, but some of the wives who served as managers and promoters. The sound of the She-Funk voices, Parlet and The Brides, covered layers of character voices. We tapped into all genre's of music, from funk, rock, pop, jazz, blues, classical, opera, country, gospel to rhythm and blues. I still hear samples of our voices on rap songs, soundtracks and commercials.
We were accustomed to having male singers produce the sessions –Ron Dunbar, Gary Shider, Glen Goins, Junie Morrison –even if we came up with the part, we didn't get the credit. As it was back in the day, women took a back seat, and yes there was a pigeon hold in terms of our creativity. I only know of 2 females in the"P" who actually received a credit for writing songs on the Parliament/Funkadelic music catalouge, and that's Jeanette Washington and Linda Shider.
Even though we all have gold and platinum records on our walls, we have yet to receive any substanial acknowledgment from the industry for our role in P-Funk.
ID: That's one of the reasons we wanted to talk with you. How many female singers toured? How were your treated? 
DS: From 1977-1979 the Mothership ran a tight ship. There were 10 women on the road including two "no nonsense" female road managers.
As far as how we were treated, we were their sisters, a family. In all families there are sibling rivalries, but for the most part we were treated with great respect.
ID: With so many voices, how were you paid? Any royalties?
DS: We were usually paid a hundred dollars for the session. Royalties? Still waiting for a royalty check.
ID: The sad side of P-Funk. Was anyone in charge of the singers?
DS: I wouldn't exactly say "in charge"… we had the freedom to improvise.
ID: You mention that the women of P-Funk rarely got credit for their contributions. Let's set the record straight, then. Were you pigeonholed?
DS:Pigeonholes resemble the entrance holes in dovecotes and pigeon lofts. They use to bore holes in the front of a desk so that the paper could be stored – rolled up in scrolls – meaning, it wasn't moving anywhere…
When I say we had a pigeonhole in terms of creativity, I also meant in terms of growth as well. When there were women on stage, P-Funk changed their live shows. When there were no women, it was, "Look out Jackson, seek some protection before we pee on your Afro"! (laughs)
ID: Can you give some specific examples of some contributions to the funk by the females, for those that might not understand?
DS: To use an aerodynamic analogy, the female vocal range gave "Funk" the thrust it needed to get off the ground. The female voice gave it the loft, the velocity, capturing a passion and the fire on such songs as "Knee Deep," and "Atomic Dog."
For example, when Jeanette Washington and Debbie Wright joined the Mob for live shows, obviously the vocals changed. They went up a notch, so to speak. When Lynn Mabry and I joined, backing the powerful lead gospel voices of Glen Goins and Gary Shider, that's when going to a p-funk show sounded like the black church. With the addition of Sheila Horne and Jeanette McGruder, "The Mothership Live" elevated full thrust to main stream. The She-Funk vocal sound was intergrated into those classic hits of the late 70's, i.e. "Give Up The Funk," "Do That Stuff," "Make My Funk," "Funkentelechy," "Cholly," "Flashlight" etc., which created the wall of sound that the group is noted for.
The women in The "P" also included Mallia Franklin, Shirley Hayden, and Jessica Cleaves. The women so enhanced the funk that people wanted the ladies to sing on outside projects. Where the ladies were not available, artists such as George Duke incorporated the sound and theme of the She-Funk backing vocalist on hit songs such as "Dukey Stick".
ID: …which influenced all sorts of female funk and soul groups, right? 
DS: The women in the "P" influenced songwriters and groups such as Vanity 6, TLC, En Vogue, SWV, Macy Gray, etc.
The ladies were the ones who's careers began with Sly Stone and Earth Wind & Fire, following up with groups such as Roy Ayers, Was (Not) Was, Talking Heads, The Gap Band, Rick James, Dr Dre, Ice Cube, Snoop, Kidd Rock, Bette Midler, Sting, Cyndi Lauper and others. The Brides Of Funkenstein were the only group in the P Funk organization to receive a main stream award for best new female artist in 1981. This to me says volumes to their vocal abilities, visual qualities, and contributions.
ID: In your opinion, then, why were the women absent from The Rock and Roll Hall of Fame induction?
DS: Hall of Fame exclusion? I think it was typical to exclude the ladies from anything major because it would have meant acknowledging their tremendous contributions. We were after all, just the girls. However, the women in the "P" weren't just window dressing. The Brides' "Never Buy Texas" album was selected by Rolling Stone Magazine as one of the top Coolest Albums of All Times. The single "Disco to Go" was selling 100 thousand copies a week, yet it was down-played in the trades..
ID: Still, it must have been fun at times. Got any good studio stories to share? Can you tell us about recording a song like "Oh I" or "Aqua Boogie (A psychoalphadiscobetabioaquadoloop)"? What about Knee Deep?
DS: Another wild and crazy party in the studio. Aqua Boogie was a lot of fun to record. I remember dancing all over the studio when we did that song. Knee Deep was off the hinges!! It was bound to be a monster hit. If my memory serves me correct, I think it took us about a week to record all them vocals. Nobody was sampling anything in them days. So just imagine going to a party everyday for 7 days. Everyone was laughing and having a good time when we recorded those songs.
ID: We know George Clinton loved to keep everyone working by having as many groups going as possible, too. How did the Brides of Funkenstein come about, and what did you think of the idea of leading a group with Lynn Mabry?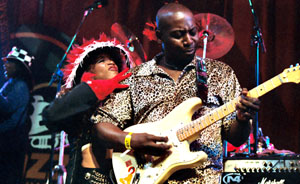 DS: The Brides Of Funkenstein was George's idea. One day he said to me out of the blue, "I'm putting together a female group." and I said, "That's nice George." He giggled, and said, I'm calling it The Brides of Funkenstein, what do you think about that name?" I was like, "Oh, a. well it's different…..He had this funny look in his eyes when said, "Guess who's going to be in it." I said, "Who?" he laughed out loud, and said, "You and Lynn." Next thing I knew we were signed to Atlantic Records and had a top ten record on Billboard. Working with Lynn was a blast. She was my best friend, and it was truly a blessing to work with someone as talented as Lynn.
ID: Can you tell us a bit about what it was like to be a Bride, and how it changed you as a performer? Tell us about your first show….
DS: I was nervous at first. In fact, I was very nervous about the whole idea. I enjoyed staying in the background with P-Funk and getting paid to party 5 days a week. The responsibilty that went with being in a group separate from Parliament wasn't something I was too thrilled about.
I remember The Brides first show like it was yesterday. Sold out venue, 15 thousand people in the audience, I was scared to death, the butterfiles never did leave my stomach. I didn't release the mic stand for the entire 45 minute show. I looked over at George on the side of the stage and he was mouthing the words "let go of the stand" Ha ha ha. All of that changed when I heard the applause from the audience. It was like, "Wow" they liked us?"
It was a learning process for me, live and in living color. It has helped me tremendously as a solo artist. I continue to follow the same format, but with a great deal more confidance.
ID: You worked a lot with Bootsy and Bernie during with the Brides, right? What was that like working with Bootsy? Learn anything from them?
DS: Yes all of us worked together. Boosty was kind of shy off stage. On stage, he transformed into a monster performer. After The Brides finished their set, Bootsy's Rubber Band would follow. Usually everyone would hang around on stage behind the Marshall amps to give them some support, including me. I use to study Bootsy, and Rubber Band vocalist Peanut, and Gary MudBone Cooper, as if reading a book that was simply titled "The Funk Live" The raw talent and power they had over thousands was something quite remarkable to witness.
Bernie Worrell once said to me, and I never forgot, "Stop trying to be so cute and open your mouth wider when you hit them power notes. You'll be surprised what you'll find." He was right.
ID: Brides songs were quite diverse, with lazy, laid-back tunes like "Nappy" that sound a bit like Dr. Buzzard, anti-disco funk anthems such as "Disco To Go" and even P-Funk-style anthems, such as "Never Buy Texas from a Cowboy". How do you describe the style of the Brides? What about The Brides image on stage?
DS: Funky of course, yet we had a laid back more sophisticated edge. We wore 50 thousand dollar white mink tails and silk body stockings. Emerald green and gold Ostrich feathers, draped in black leather rhinestone chains. We were a cross between the Supremes and Rod Stewart, Grace Jones and LaBelle. Mix that all together with Maceo, Fred Wesley, Kush Griffin, Frankie Kash, BlackByrd McNight, Razor Sharp, Jeff Bunn, Sheila Horne, Jeanette McGruder…Lynn Mabry and Dawn Silva, all I can say is we was putting a big whooping on anything that had to follow that funk.
ID: $50,000 mink tails? Amazing. Do you think any of that funky style and fashion has stuck around?
DS: The girls funky style of dress has influenced a generation of young performers whether they know it or not. The funky 70's fashions of today sported by everyone from Macy Gray and Destiny's Child to Alicia Keyes knowingly or unknowingly owes a shout to the women of funk.
ID: Any regrets?
DS: My only regret is that I never seen any live footage of that particular combination of funk soldiers.
ID: About this time, didn't the Mothership start to run out of fuel? What were you thinking about as things started to unwind?
DS: The Mothership never ran out of fuel. All of a sudden there was no genre for R&B/funk music. No place for the Mothership to land. Disco music had become popular. Many recording artists followed the format of generic disco beats. The two hundred and seventy five thousand dollar Funk Festivals were gone forever, and so was the heart and soul of funk music. P-Funk was driven back to the underground market. After being on the road for a solid 7 years, I went home to collect my thoughts. There were no more elaborate shows, no sessions, no singing, no money.
What was I thinking, at this time? I was thinking that my musical career as I had become to love and respect was over.
ID: You eventually met up with the Wilson's and worked with the Gap Band. What was it like working with them? How long did you work with them?
DS: I started working with the Gap Band in 1982. Bills were piling up and I needed a gig. With all of the "Disco" on the radio, working with them was a musical breath of fresh air. I sang with the Gap Band for seven years.
ID: Do you feel they were influenced by the sounds of the "P funk? How did you feel about there musical contributions? 
DS: Yes, The Gap Band used the same funky formula on their rhythm tracks as Parliament. Of course their lyrics were a great deal more radio friendly than Funkadelic, but never-the-less, they did some major biting. It was cool with me, because I love the funk. Charlie Wilson has to be one of the greatest voices in the industry. His musical style is heard in most of the new artist that are out today.
In fact they had one hit record out called "Ooops Up Side Your "Head. Yeah, They borrowed the horn line's from the Brides hit single, "Disco To Go".
ID: Now that you mention it….I wondered why that sounded so familiar. Did it bother you that they were using Brides horn licks in their live performances?
DS: It made me feel funny when they didn't acknowledge where them horn lines came from, especially with me singing right behind them.
ID: Val Young worked with you in the Gap Band, was she also a member of the Brides Of Funkenstein? .
DS: I met Val young in Detroit in the winter of 77. She was hired as a Brides Maid (backing vocalist for the Brides)
ID: On your CD credits, Val Young is listed as a writer. How did the two of you meet and come up with a song called "The Red Light District?"
DS: It was while we were on tour in Europe with The Gap Band in 1983 when we wrote the hook line for The Red Light District. We somehow stumbled into the red light district by mistake looking for something to eat. We started humming this melody and it stuck in my head. I knew that one day I would record that song, and it finally came together on my sophmore production. The Red Light District was released in Europe in December 2000.
ID: How about Chaka Kahn's sister, Taka Boon? Was she in the Brides?
DS: Taka Boon is one sanging sista! She was never a member of the Brides. She did however sing on some P-Funk related songs.
ID: By the mid-1980's, you had become quite established as a singer, and started to move on to other projects. Tell us about the work you did in this era. What sort of gigs appealled to you, and what was your focus as a perfomer?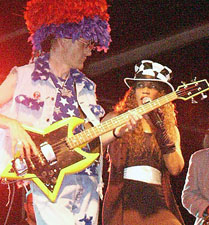 DS: It didn't matter to me what kind of gig it was. If I was working I was happy. I had become quite established as a background singer during that era. I had the opportunity to step up a few notches when I signed a publishing and recording deal with Polygram Records in 1988. My album was produced by Charlie Wilson. Polygram was going through a lot of internal changes at that time. A&R staff were going and coming every 6 months. My record got caught up in that A&R shuffle. Every six months they picked a new single, a new remix, eventually it was placed on the shelf.. Even in the mid eighties to the early nineties, there was still no genre for funk, and of course my CD was flavored with R&B funk. Took me 3 years to get a release from Polygram.
In the meantime I started to do a lot of sessions for rap artist, including "Yo Yo" Coolio, and Dale The Funky Homosapien. Went to London with Ice Cube, and sang on several of his productions including the title sound track for "Boyz in the Hood. A short run with the all female group Klymaxx. I did a few gigs with BB King, and sound tracks with Dave Stewart of the Eurythimics. Co-produced 5 songs and sang on an album for an artist named Mitch McDowell, better known as General Caine. Monster Funk CD! It was never released. My main focus was still the funk, but as an artist and performer I was in limbo.
ID: It doesn't sound easy. What do you tell someone who wants to sing for a living?
DS: Education is a must, first and foremost. Develop your own style. The way that you practice, is the way that you perform. Learn to read music, play an instrument, piano, or guitar. It will come in handy down the line. Learn the business side, entertainment law, how to read a contract. On the technical side, learn how to to be a recording engineer. On the practical side, make sure you have some skills or a trade to fall back on when the record loses its bullet.
ID: Any words of warning about the industry?
DS: My Mother once told me when I was very young, "Be independent, and always remember, the music industry is satan's play ground".. I thought she was tripping. She wasn't. Took me 20 years to finally figure out what she was talking about.
ID: Your mom sounds smart. Most recently, you've released a new 12 song CD on your own in Europe and Asia.. What inspired you to release a solo CD after all these years?
DS: My inspiration was complete boredom.
ID: Ha!
DS: Bored with the music I was hearing on the radio. So I decided to have a party. A live funk party for 1,000 funk soldiers. I sought out a local promoter to assist me, who in return told me I was waisting my time, Funk was dead, and you'll be lucky if you sell 3 tickets.
Ok, now I was on a mission. I hired a band, found a non-profit charity to back me, and my show sold out. I didn't stop with just the one show, I booked several more, and was quite amazed to see that so many people still loved funk music. The money that I made off the shows went into productions. Some of my funky friends joined in to help me, including Jeanette Washington and Isley Brother's keyboardist D'LaVance. Before I knew it, I had recorded enough songs to release a CD.
ID: What's it like to be in charge of the whole thang? Are you enjoying being independent? How does independence influence how you operate? 
DS: Being independent means working harder than you ever had to work in your life. You must maintain a level of persistency and consistency. Being independent gives me the freedom to write what ever I feel, and yes I enjoy that very much. To record any kind of song that I choose and group them all together on one CD. No worries on what's marketable.
ID: Your recent performance was hailed to be the most electrifying performance at The North Sea Jazz Festival. Some of the artists included Chaka Kahn, Bilal, Angie Stone, David Sanborn, Stanley Clarke, Oleta Adams, and others. How did that make you feel? How do the Europeans feel about the funk in 2002?
DS: We dropped the funk in the states a long time ago. The Europeans picked it up and ran with it. I had no idea how strong funk music was in Europe until I released my CD. Never in my wildest imagination did I expect the response I received at the North Sea Jazz in Holland. The fans went mad! Pulling their hair, slamming there bodies against the stage, a group of females in front knew all of the words to my songs. I received my first standing ovation as a solo artist!! How did it make me feel? I was fighting back the tears. Dreams do come true. I thank God for it had to be one of the greatest moments of my career.
ID: Without radio or major backing from a big label what do you think played the biggest role in your ability to gain worldwide exposure for your debut CD? 
DS: Having substanial product that was layered in funk certainly helped!! (laughs) Having an outlet such as my own website to purchase my music. There are 3 generations of true funk soldiers saturated through out the world. The numbers are in the millions. My mission is to reach as many as possible.
What I managed to do with my first CD was to scratch the surface. Reaching possibly 100 thousand funk soldiers or more through my music or live performances. For me to accomplish this without any major backing was absolutely amazing. It was through the grace of God, and the spirit of the music, and my funky friends. (laughs)
Because of my musical background, having substanial product, and my roots in the funk, networking on the internet played the biggest role. The strongest market's for me were in Japan, Spain, The United States and Europe. Fans were so excited about my product that they turned over all of their resourses to help me. To name a few, I got help from ex-record company executives, writers such as Gail Mitchell at Billboard in Los Angeles, and Charlotte Morgan in Cleveland. DJ's in Australia, funk stores in Japan, Switzerland, Germany, France, FunktoTheMax.com in Holland, Denmark, TheFunkStore.com in Atlanta, wfnk.com in Cleveland, The One Nation Chat board, Bob Davis, SoulPatrol.com, amazon.com, FunkU Magazine in Paris France, Seth Neblett in Detroit who has personally maintained a She Funk web site for many years.
College radio played a huge role in Canada and Greece, website radio, Joe Kelly's web site radio on the East Coast has had my CD on full rotation for over a year. All of this and much more lead to license deals in Europe. Working with a popular Dutch funk Band in Holland called Seven Eleven helped me to secure live shows in Europe, which included opening for Tower Of Power and performing at the largest festival in Europe. The list could go on and on.
I have received well over 5 thousand encouraging fan letters in the past year, and I have personally answered every last one of them. Now I can add indiedisco.com (laughs) Who said funk was dead??
ID: Not us! In addition to new orginal songs you cover Bootsy's "I'd Rather Be With You". This was an interesting choice, being one of those great under-played love songs of his. How do you choose what material to perform? What does a song need to have to get your interest?
DS: I'd Rather Be With You was one of my favorite funk ballads. I wanted to cover in back in the day when the Brides were together but we never got around to it. Again being in charge gives me that opportunity to record what ever I want. Choosing my songs is all in the rhythm tracks. Bass lines, rhythm and keyboard chords. If I'm not feeling the music within the first 16 bars then I'm not interested. If I'm getting chills on my arms just from the music, then my job is easy.
ID: What's next for Dawn Silva?
DS: In the studio now, gathering fuel for my second funk mission. I am using my latest efforts as a footnote. Some great things are in the making for next year. Can't discuss it with you now, but indiedisco.com will be one of the first to be notified.
ID: It's a deal. Finally, since you are an expert on this, have we "bought Texas from a cowboy"with Bush-Cheney? Why didn't the US listen to your advice?
DS: Don't think they would have taken us serious. (laughs) Maybe they need to listen to my song called "Whole Lotta Game"
ID: Let's send them a copy. Thank you so much for spending some time with us, expanding the knowledge and history of women in P-funk. It has been a pleasure. 
DS: The pleasure was all mine. Peace, many blessings and thanks for keeping the funk On The One!!!