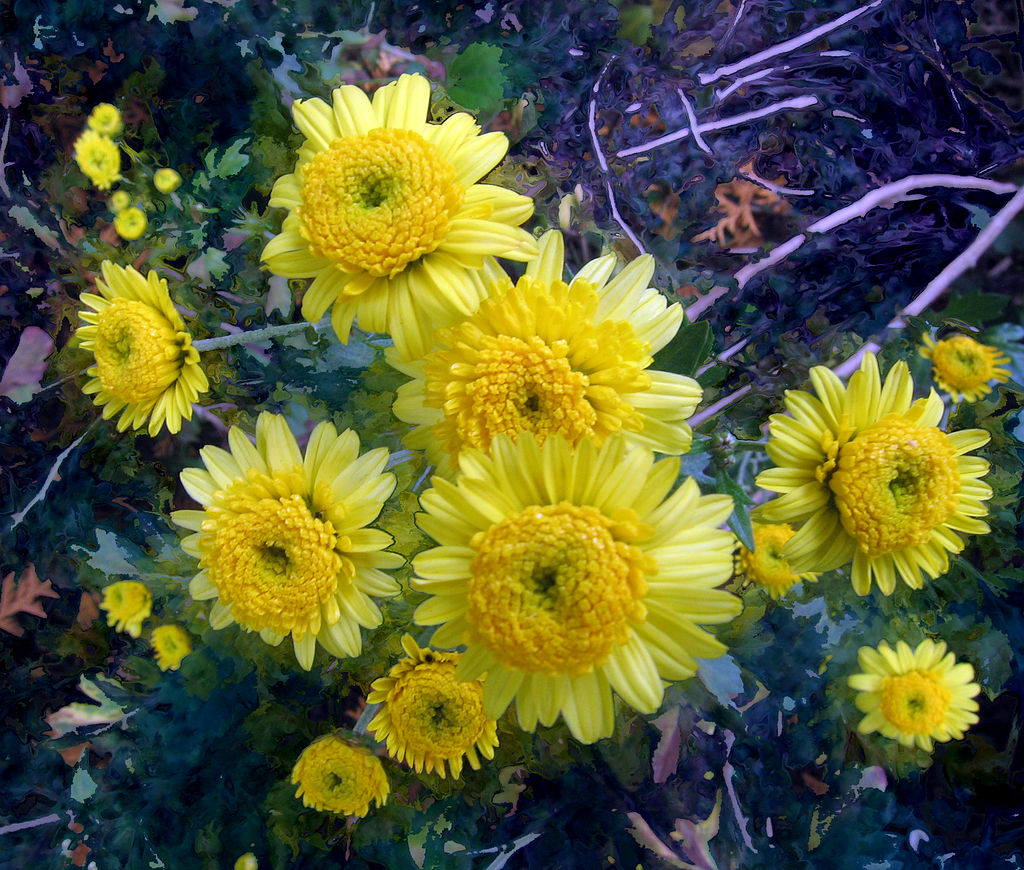 Yellow Chrysanthemu – Snežana Trifunović, CC BY-SA 3.0 <http://creativecommons.org/licenses/by-sa/3.0/>, via Wikimedia Commons
This week's show waffled between the themes of war and weather, in between rafts of new music from the likes of Flight Week, Vanishing Twin, Lucky Star USA, and the High Dials.
Lots of anti-war songs including a new track by our own XoXoXopher called "Get Rid of War." Too bad that theme never goes out of style.
We dug the country folk of Lucky Star USA, from the unlikely locale of Worcester, MA ("It's always worse in Worcester!") This song probably gets my vote for best overall composition of the week with great lyrics, nice arranging, and a solid performance. I especially like the sad steel guitar. Their new album Holy Land is just out.
Speaking of country folk, Pert Near Sandstone (of Minneapolis) have a new one out called Waiting Days. We listened to "Who To Choose." with excellent fiddle work and lissome backing vocals!
Cover of the month: Fortunate Son, originally by Creedence Clearwater Revival but recently reimagined in the relentless doom metal cum country rock of Bone Church, where fearsome guitars and a serious vocal bring it all back home.
Girl group joy from Speedy Ortiz whose new track is called "You S02." They remind me of a British group from long ago but I'll be gosh-darned if I can remember which one. Speaking of girls, The Breeders had a new record in 2018 that we totally forgot about… We listened to "Nervous Mary." It's always fun to hear Kim Deal do her thing.
In a related vein, Eric in the Kitchen, who contributed to the immortal Mycatisgreen ep back in 2020, seems to be Belgium's answer to Lou Barlow with a new track so much in the spirit of Sebadoh that it is, in fact, a cover of a Sebadoh song, "Not a friend." People who know what that means will probably like it. Hint for those who don't: Lou was a pioneer of the "edge of the bed" sound of the mid '90s. Eric's "Not a friend" has tinges of noodly Pavement, SY, and of course Galaxie 500.
So much more could be said but we'll leave you to listen on your own and imagine your own response to what is otherwise self-explanatory…
 October 11, 2023
Mums The Word
Space Ghost – What Day Is It?
File Under Foliage – Summer/Winter
Speedy Ortiz – You S02
Blonde Redhead – Kiss Her Kiss Her
Alfred Lester – A Conscientious Objector
xoxopher – Get Rid of War
Leonard Nimoy – Put A Little Love In Your Heart
The Breeders – Nervous Mary
eric in the kitchen – Not a friend ( Sebadoh Cover )
Flight Week – rushing river – drenched version
Joan Osborne – War
Johnny Cash – The Wall
Reid Jamieson – The Israelites
Lynda Barry – Wartime
Seven Mary Three – Goldfish
Vanishing Twin – Marbles
The High Dials – Diamonds In The Dark
Swingle Sisters – Star Wars
SST – I'm A Believer
Pert Near Sandstone – Lay Down Your Burdens
Lucky Star USA – Streets of Gold
Fortunate Son – Bone Church
Pert Near Sandstone – Who To Choose
xoxopher – Bianca
Bootsy Collins – What's Wrong Radio?
Mali Obomsawin – Lineage
Jeremy Dutcher – Ancestors Too Young